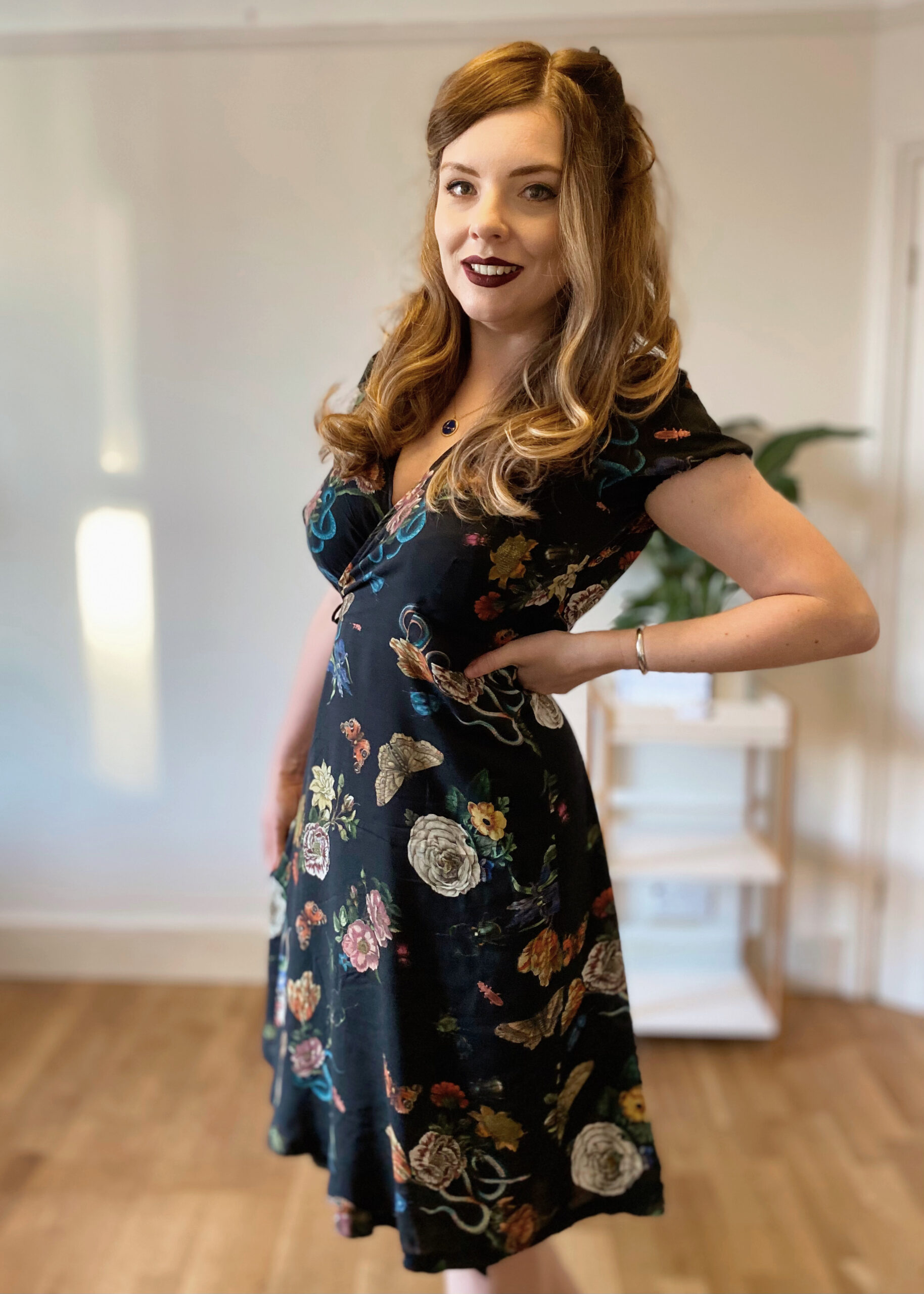 This month, Minerva sent me 3m of this seriously spooky Lady McElroy viscose challis, so I really embraced the Halloween spirit with my #MinervaMake! I may be a day past Halloween, but better late than never, right? 😉 Head over to Minerva to read up my blog post or scroll down for more details and photos.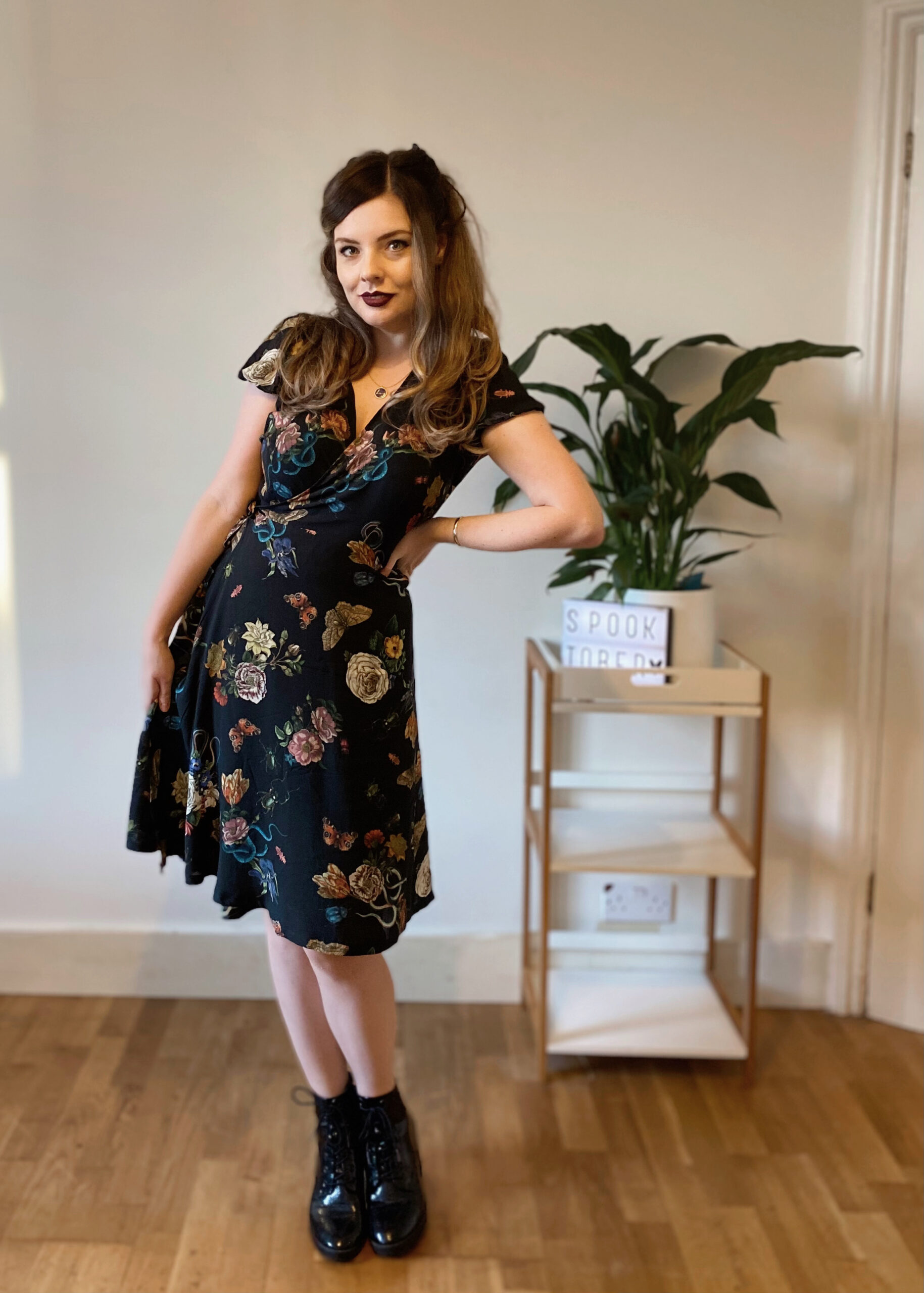 But full-disclosure… *whispers* I am not the biggest fan of Halloween.
I know, I know! But truthfully I am a total wimp with scary films, I would readily set myself on fire if a big spider was ever even in my immediate vicinity, and I would definitely freak myself out with a oujia board. That being said, if my Halloween could just involve cuddling a black cat, watching The Addams Family, eating a bunch of sweets, and burning candles while wearing deep blood-red lipstick and all of my goth-girl attire, I am in — just please leave the jump scares to someone else… who won't openly sob during a Horror Maze at Universal Theme Park.*
(*Shamefully based on a true story).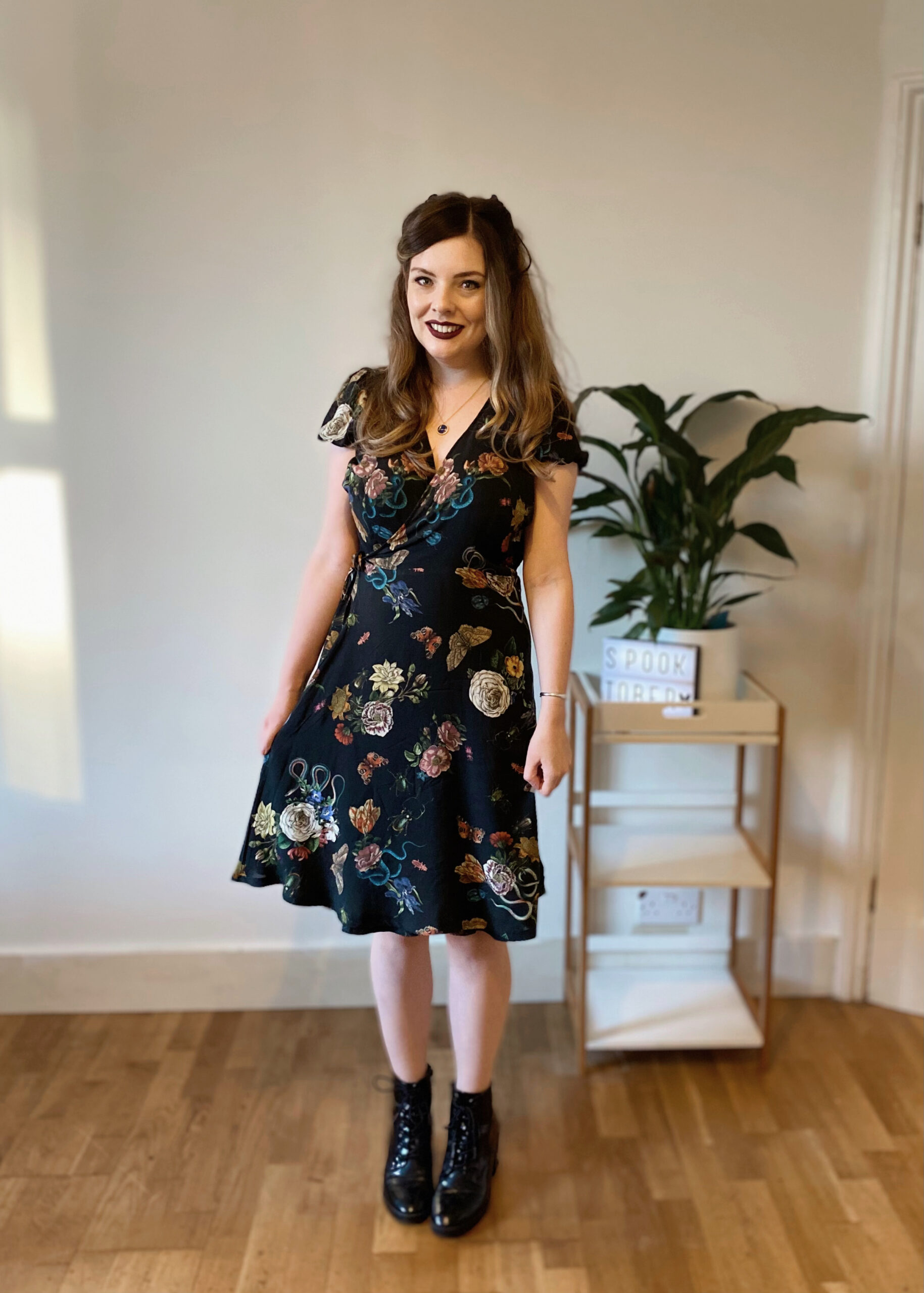 Despite my total cowardice on all things spine-chilling, I am really digging the witchy aesthetics of this Lady McElroy fabric — it has got similar vibes to my Vogue 9313 wrap dress, which I often wear. This print has got large moths, beetles, peacock butterflies and snakes coiled around the flower motifs, which is striking against the solid black background. The scale of the print is also not too large that it becomes overpowering! This viscose challis is quite lightweight, floaty, with a smooth hand, and it pressed easily. I did find it quite shifty during cutting out and pinning, but I used my walking foot and sewed slowly to minimise the fabric from slipping around too much. As this fabric is prone to fraying, I was considering finishing all my seams with French seams, but I overlocked them instead and they seem to be holding up well.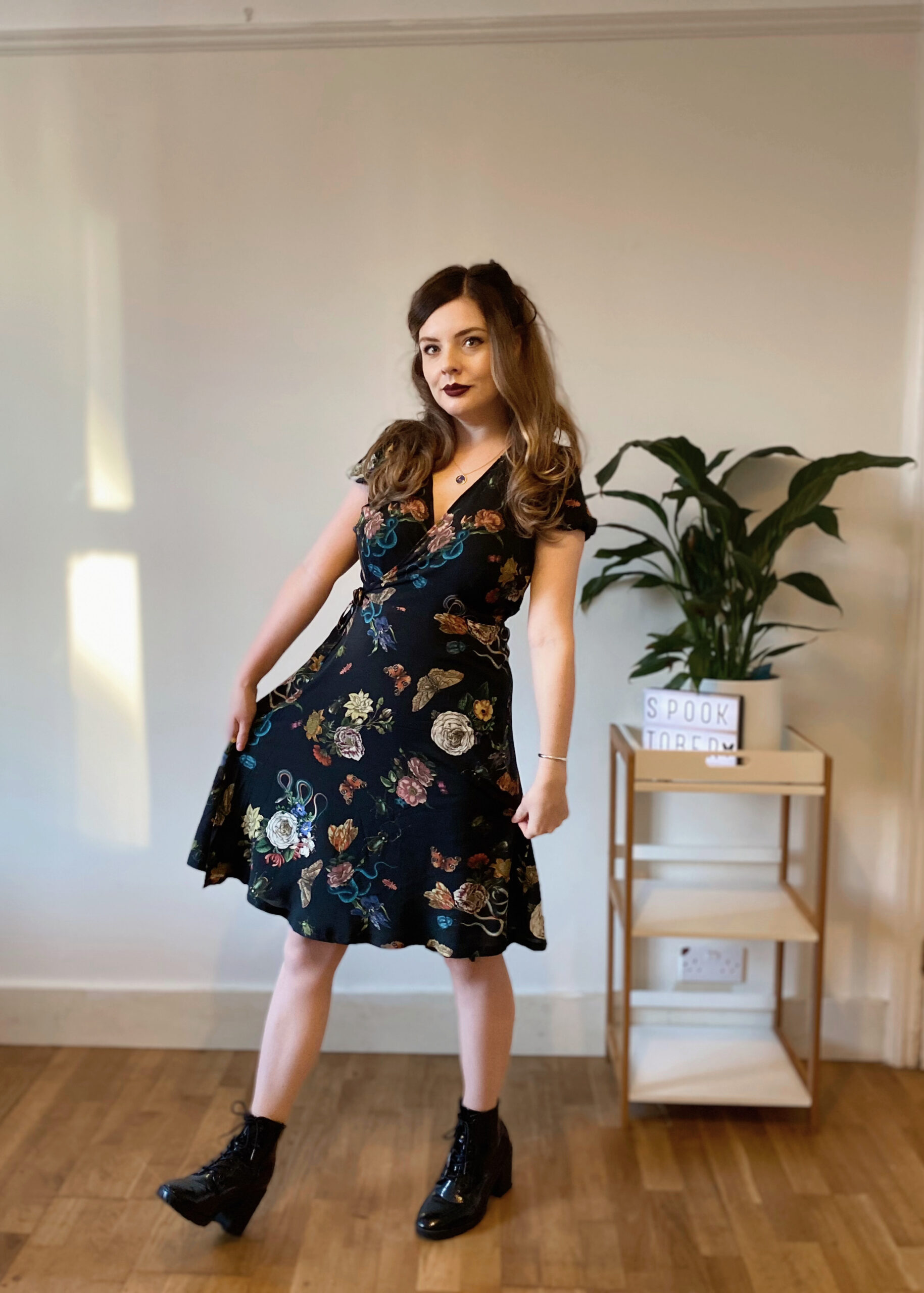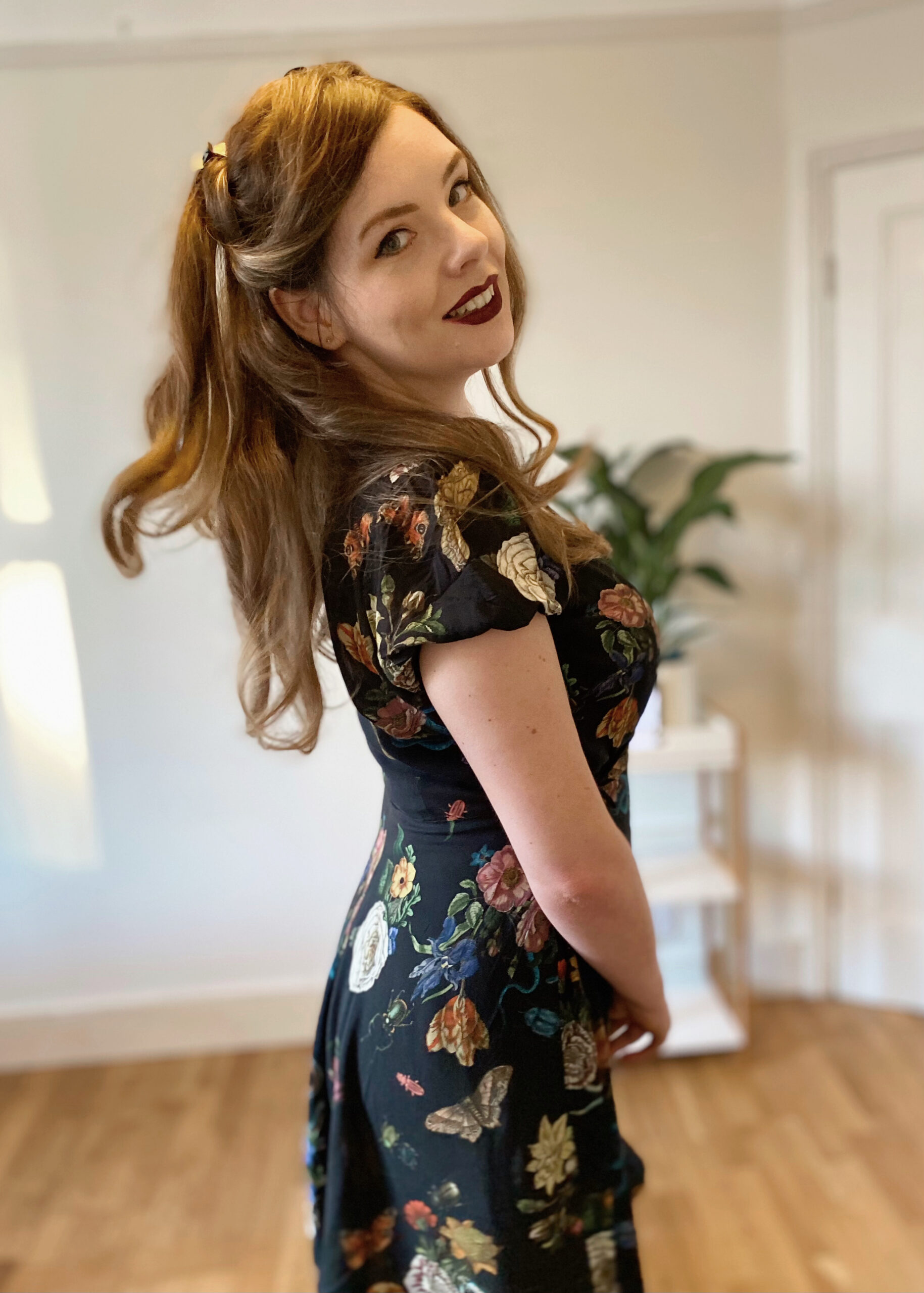 I recently purchased a PDF copy of the Cashmerette Patterns Roseclair dress and thought it would be a perfect match for this bewitching viscose. I love my Cashmerette Appleton knit wrap dress, so I was super excited for the launch of a wrap dress for woven fabrics that won't gape at the bust! There are three different options in this pattern — including a dramatic tiered maxi dress with bishop sleeves, which is 100% going onto my Summer sewing list — but I went for View C, which is a classic knee-length wrap dress with sweet little puff sleeves. All the pattern pieces are cut on a single layer, so make sure you have got a large cup of tea to keep you going throughout the cutting out phase!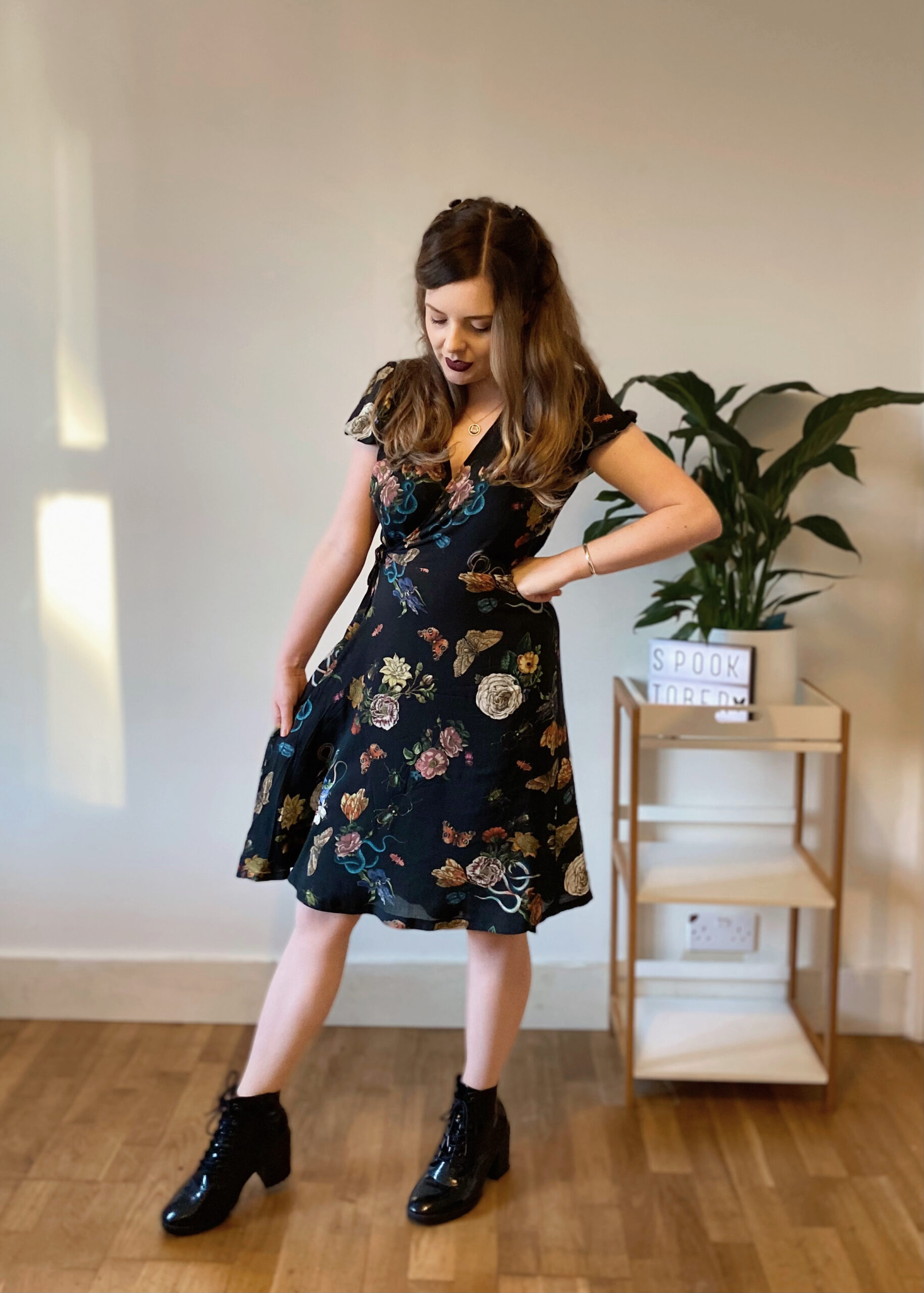 The instructions for the Roseclair Dress were easy to follow with plenty of clear illustrations. I have mentioned this before, but the inclusion of a croquis in the instruction manual is just such an inspired idea for sketching out your design. In terms of fit, I cut out a size 6 with a G cup bodice; I think next time, I will go for the E/F cup bodice instead, as I have a little bit of excess fabric at the side of my bust. I took my time applying the self-fabric bias tape and I am so impressed with how snugly the neckline fits — zero gape, hooray! I think I will try different sleeves next time though; I like the puff sleeves, but I think they finish at an awkward place on my upper arm.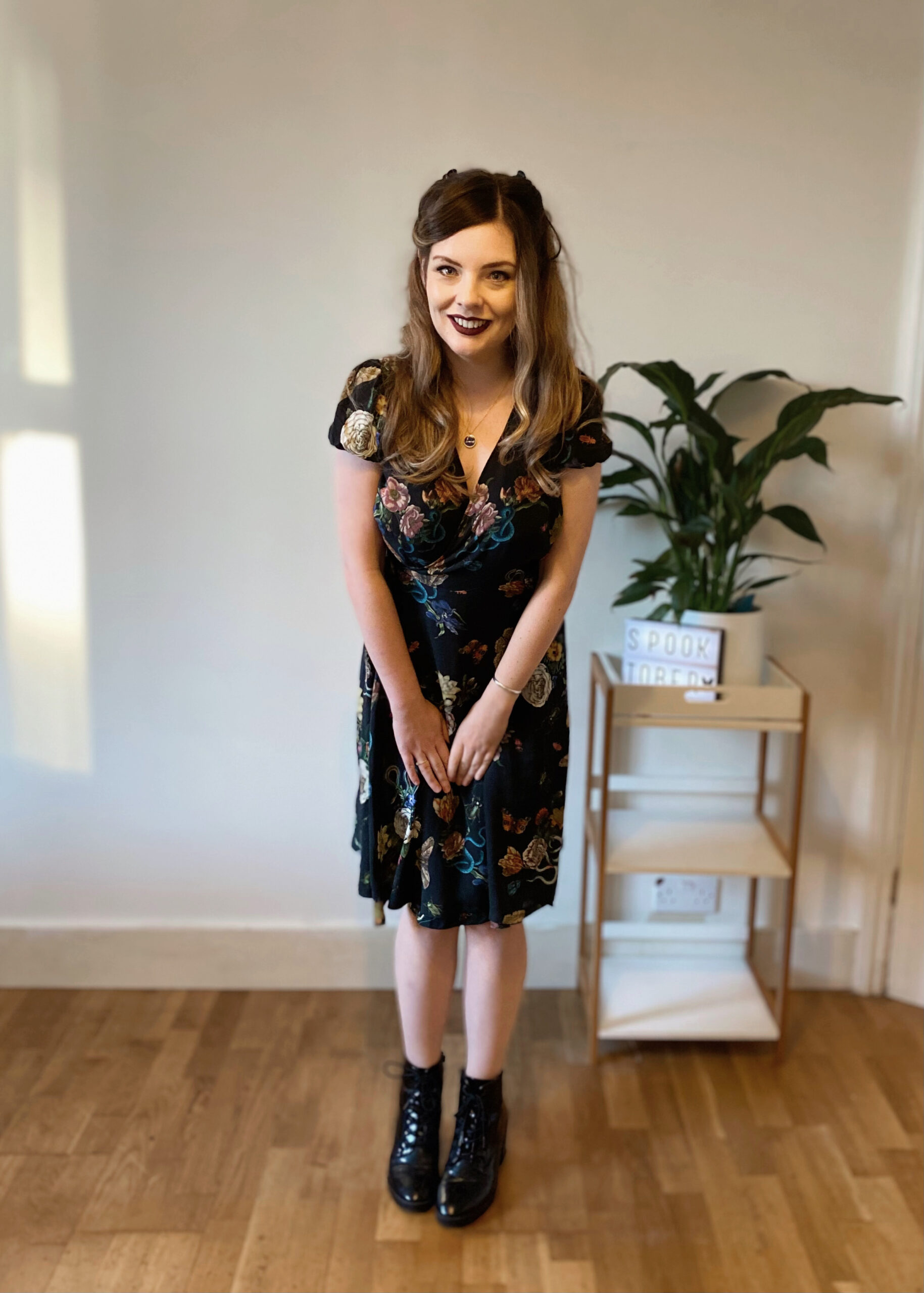 I am so happy with my finished Halloween dress — I can feel the spirits telling me that I need many more Roseclair dresses in my wardrobe! I have got quite a few viscoses squirrelled away in my fabric stash and this wrap dress is pretty perfect for my figure…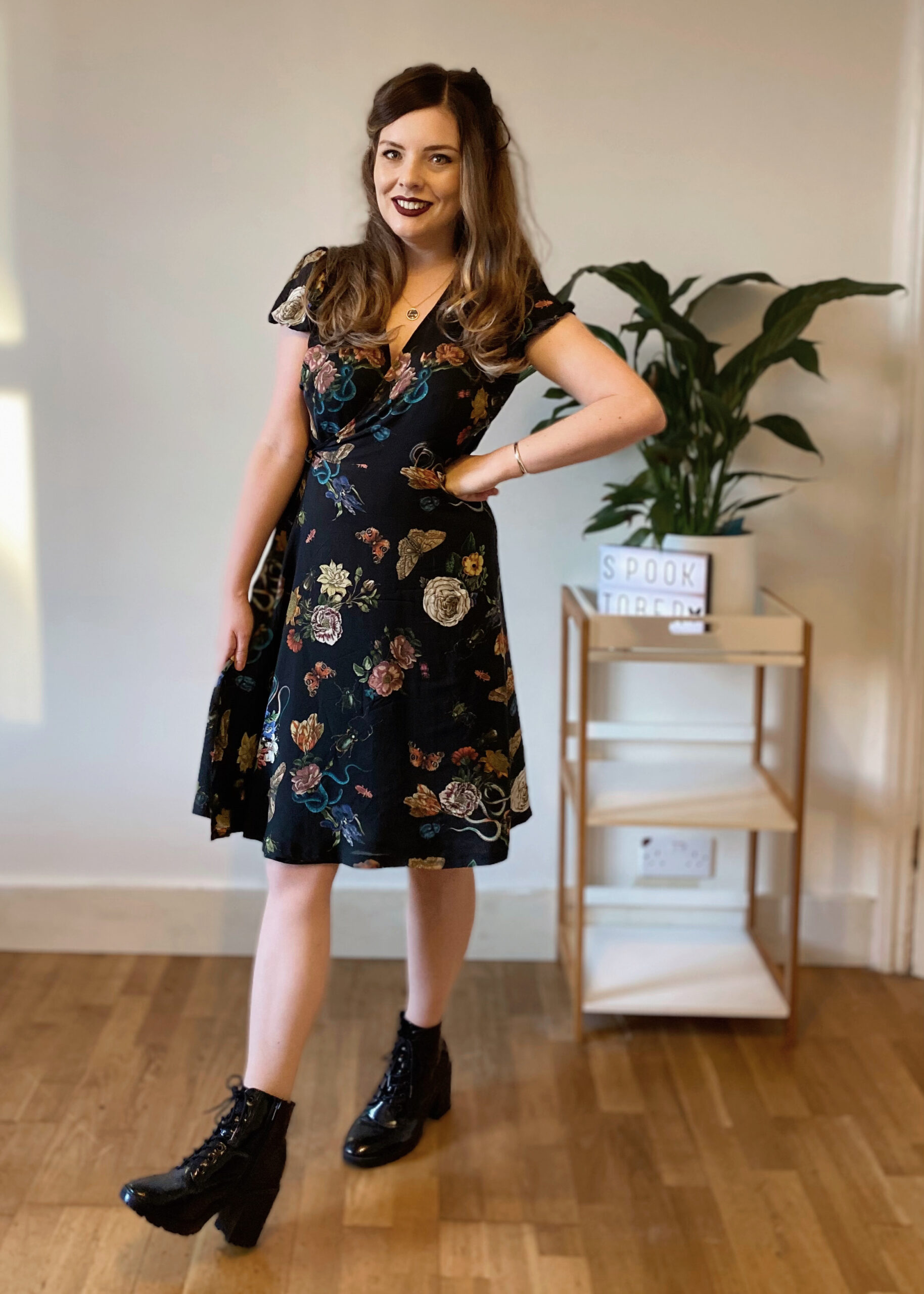 Cashmerette Roseclair
Size 0 – 32
High Bust: 30″- 57″
Full Bust: 33″-62″
Waist: 25″-52″
Hips: 35″-62″