This dress started life as a very, very different dress back in February 2021; I had merrily cut out Vogue 8970, a shirt dress with raglan, ¾ length sleeves, pleats at the waist to give some shaping, a lapel collar… and when I tried it on, holy shit. I was drowning in fabric. The ease factored into this pattern is actually ludicrous. I tried pinning out the excess ease and simply gave up when it looked like I would need to remove over 3″ in the sleeve at the bicep alone. With the length to my knees and the exceptionally baggy sleeves, this ditsy floral viscose looked really unflattering and was just overwhelmingly too much print. So I did what any other frustrated sewist would do — I stashed it away in my box of UFOs (unfinished objects), never to see the light of day again.*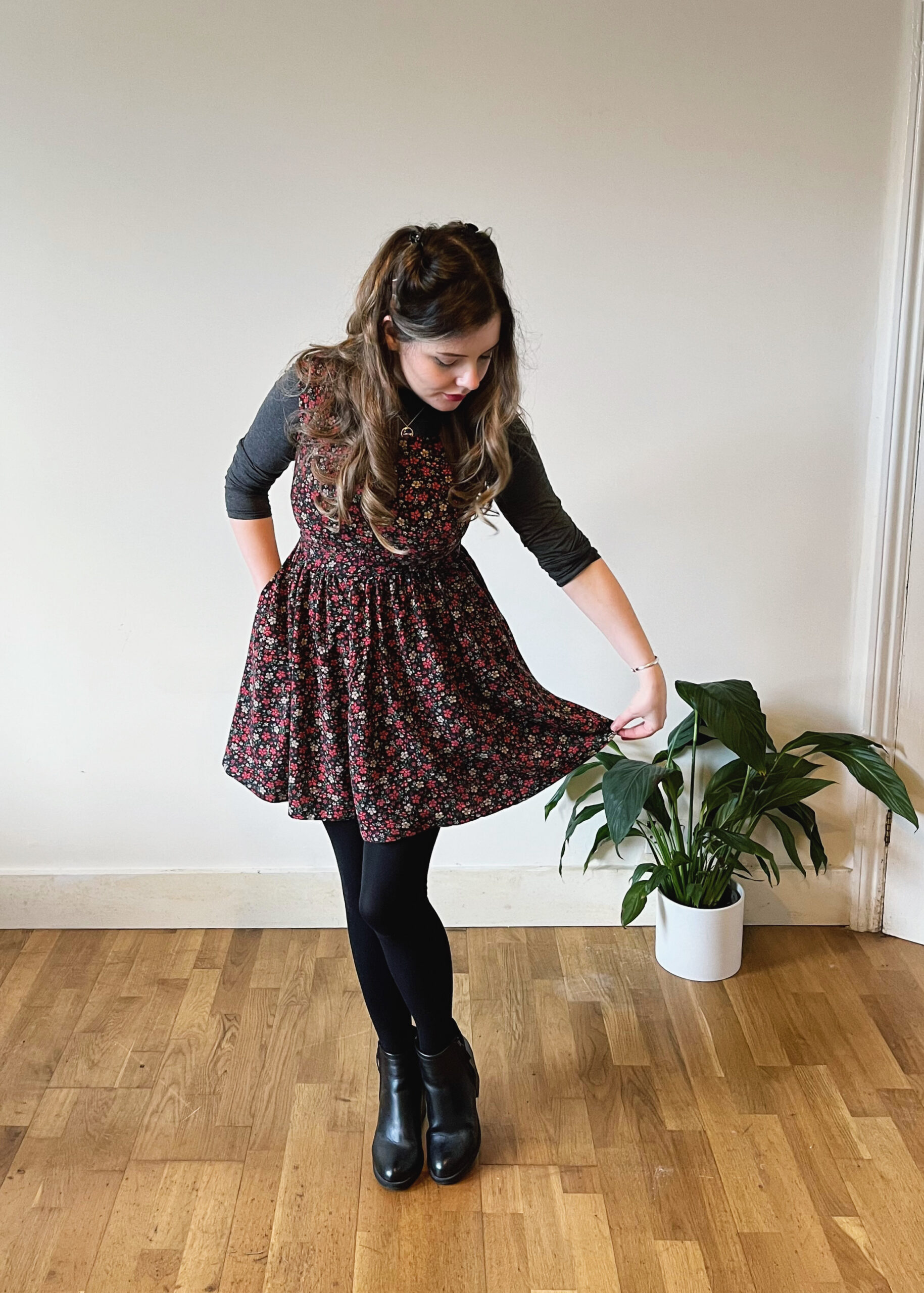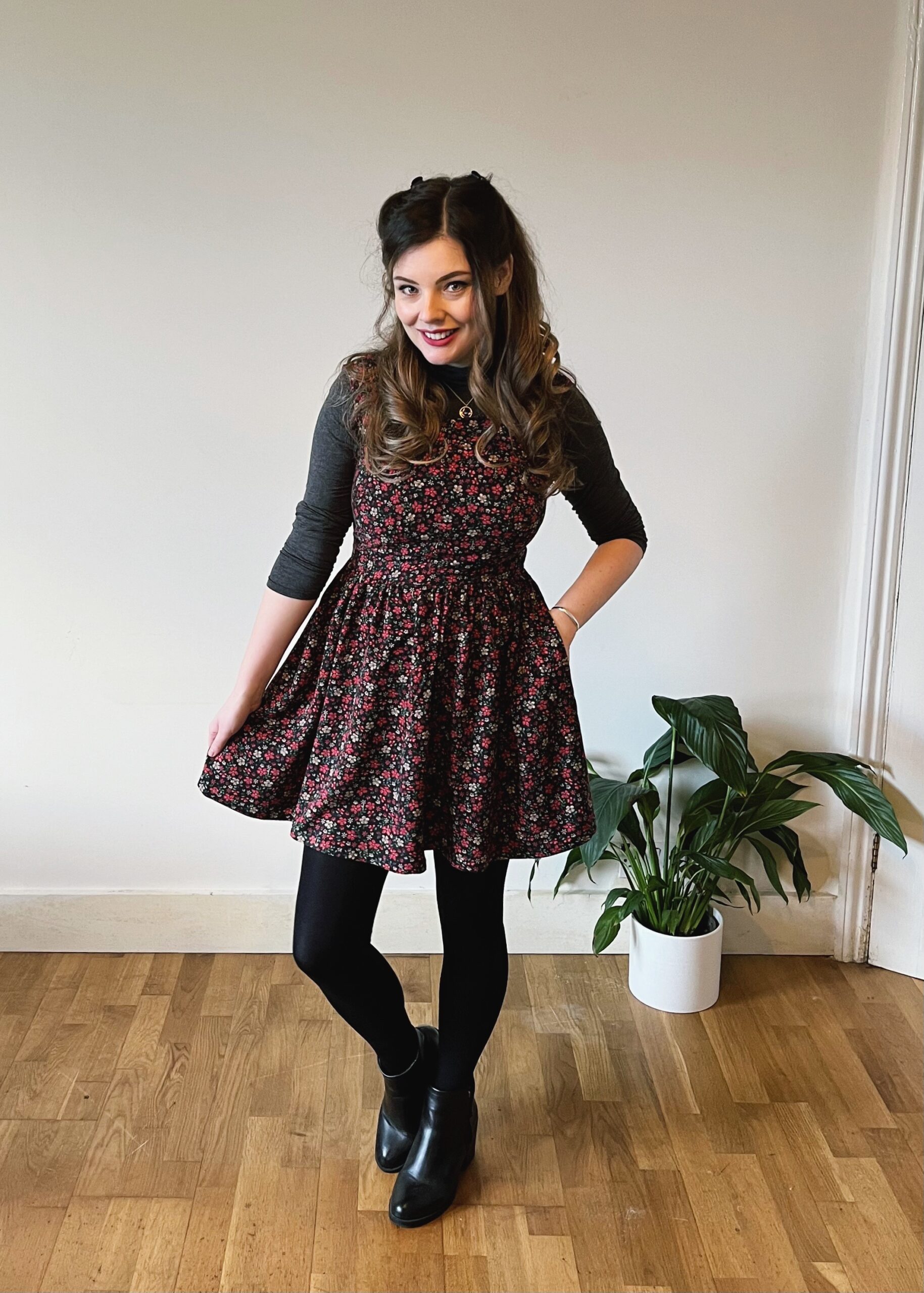 *Errr… so "never to see the light of day again" turned out to be 9 months later, when I decided to turn that mess into something I would actually wear, and you know what? I am so glad I did, because I have got so much wear out of this new version!
I picked out Vogue 9197, as it ticks many boxes for my style: a lined, fitted bodice that hits at the natural waist, sleeves, and a full skirt. This pattern has a jewel neckline, two different skirt lengths, two different sleeve lengths, and a flattering French dart to give the bodice its shaping. There are pockets included (yay!) and it is one of Vogue's Custom Fit ranges, which means you get separate bodice pieces from a dressmakers A-cup to D-cup. I cut a size 12 and used the D-cup bodice piece, as I have a full 4″ of difference between my high bust measurement and my full bust measurement.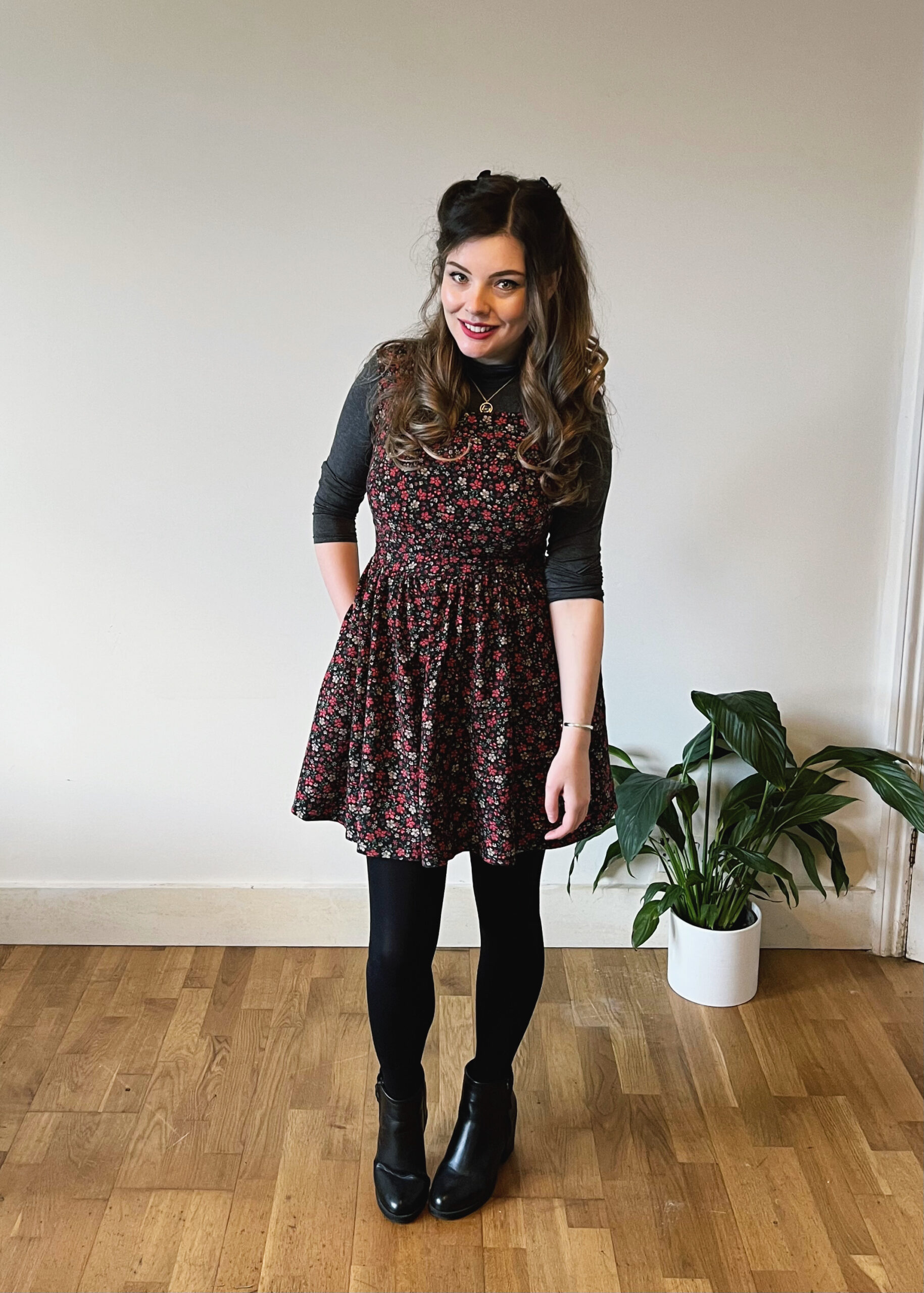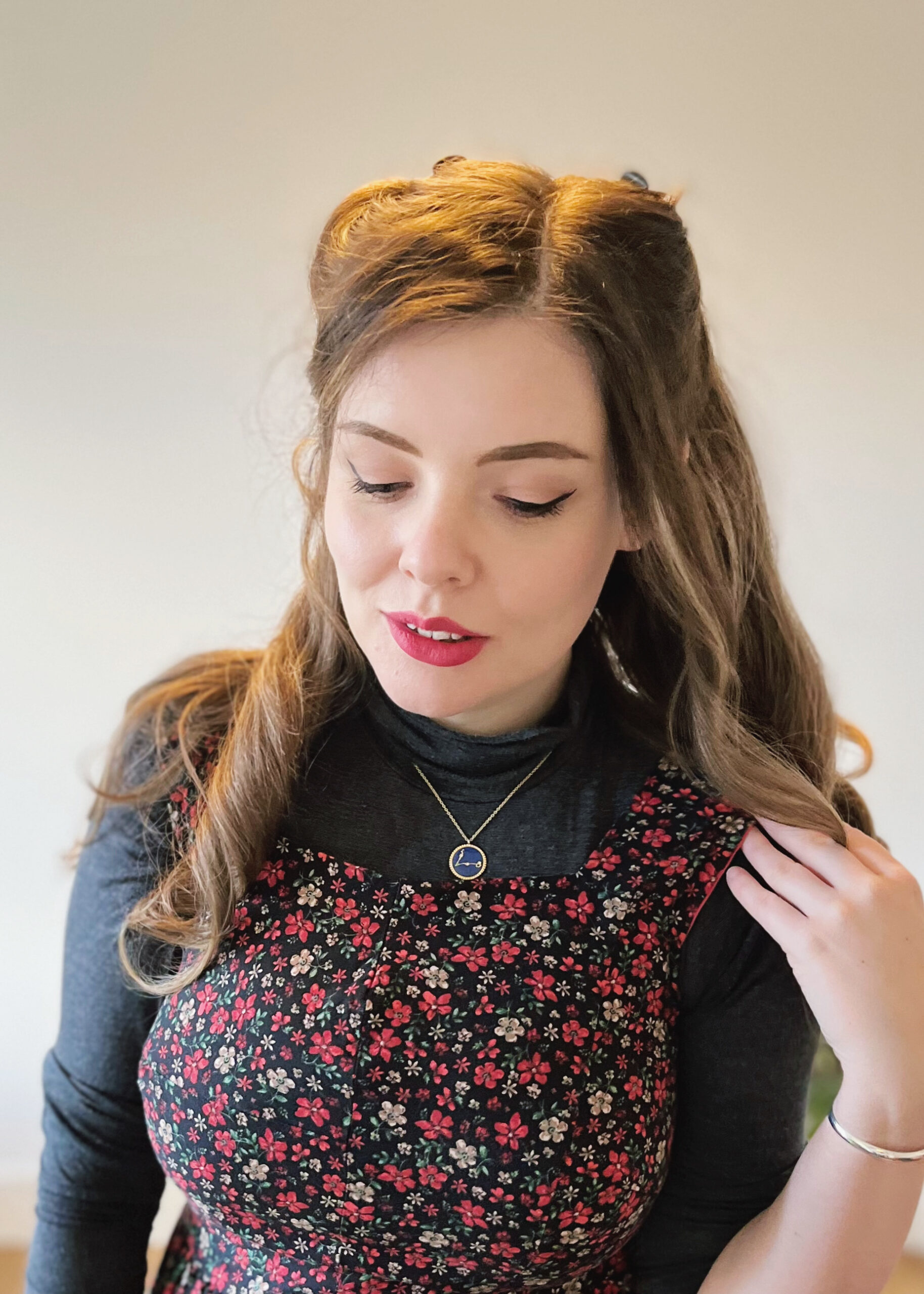 Unfortunately, as I had to unpick and reuse a lot of pieces from the shirt dress and didn't have many scraps, I had to patchwork the bodice as best I could and make quite a few hacks to make up for the missing yardage! I cut the skirt a lot shorter than the pattern and finished the armholes with bias tape, as I really didn't have enough fabric to make even short sleeves. I also hacked the neckline to be a square neck — I am really liking that silhouette at the moment and am planning to add more square necklines to my wardrobe. As I knew I would be styling this with a roll-neck thermal top underneath and thick black tights, I don't really mind that my winter floral dress has all the hallmarks of a summer dress (short, sleeveless and low-cut). For the bodice lining, I used up some of my leftover Lady McElroy cotton lawn from my McCalls shirt and popped in one of my favourite Kylie and the Machine labels.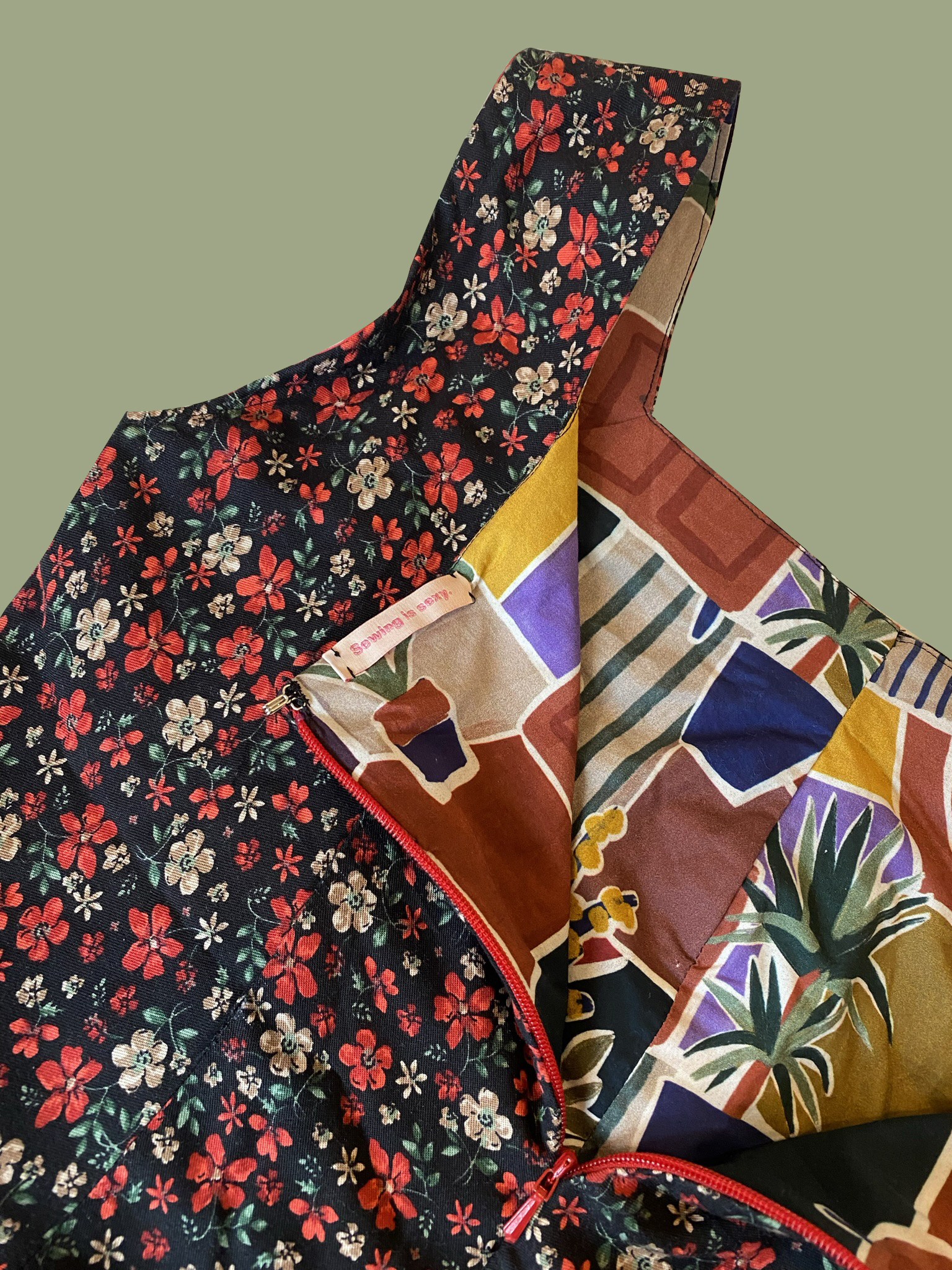 My fabric is deadstock viscose twill from Rainbow Fabrics (now sold out) — I really love the red and taupe ditsy florals against the black background! The drape of this viscose twill is fluid and the fabric feels smooth to the touch. The twill weave does give this viscose some structure, which certainly made cutting and pinning a bit easier than with viscose challis! I made sure to use my walking foot to prevent any shifting and a 70-sized microtex needle to avoid any snagging. This viscose twill also held the gathers of the skirt beautifully.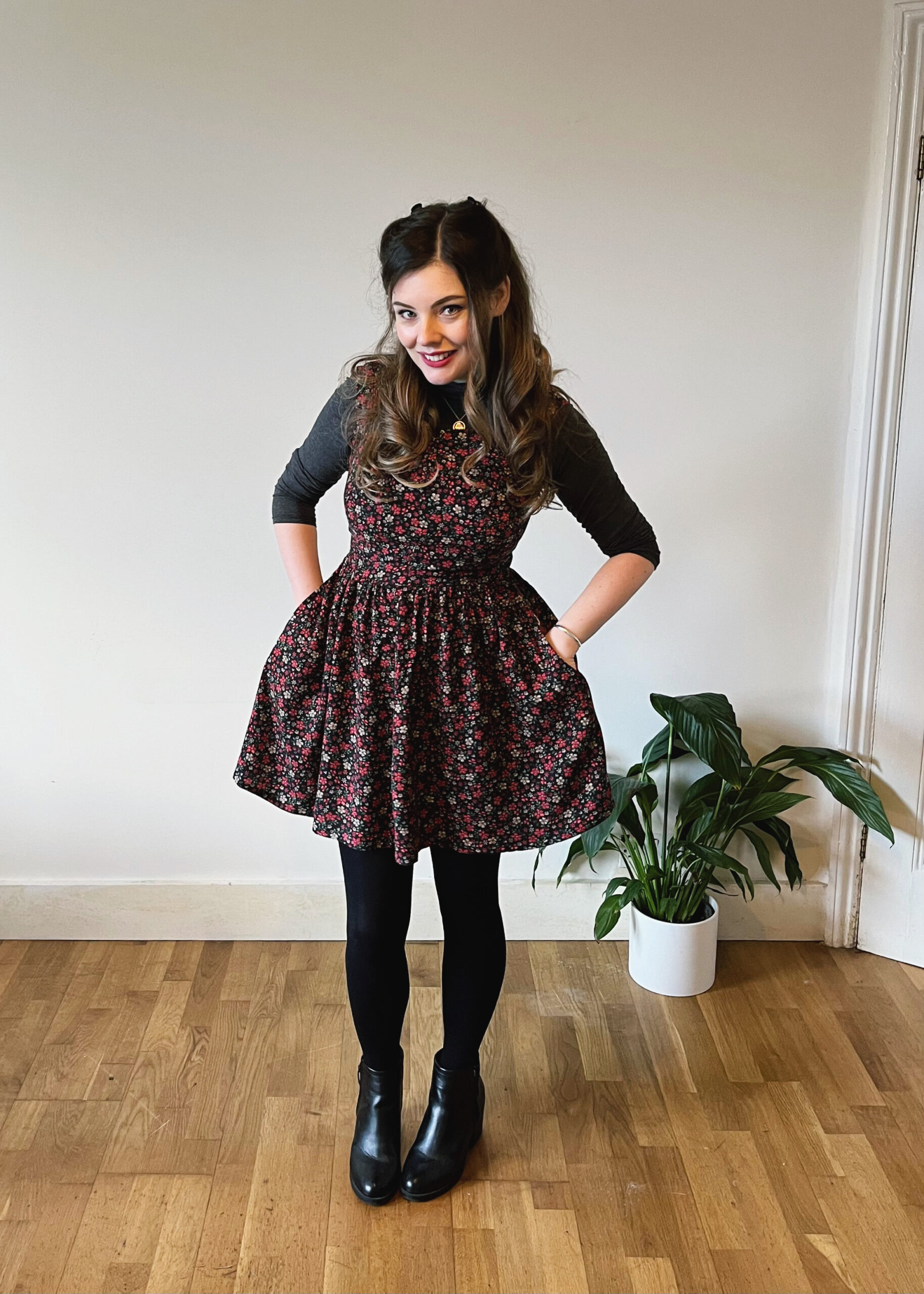 This dress came together fairly quickly, including slipstitching the lining in place by hand along the waistline and along the invisible zip. My quibble would be sometimes Vogue Patterns skip necessary steps that a beginner might not know to do instinctively; even though they weren't included in the instructions, I stay-stitched my bodice necklines to avoid the chance of my fabric stretching out of shape and also understitched my pockets.
Considering where I started with this dress, I am really happy with my finished dress, as this style is a wardrobe staple for me. Next time, I'm planning to grade from a size 10 for the shoulders and upper bust, as it could be marginally more fitted at these points. I can't wait to make another version of V9197, as I really like the fit of the bodice and you could draft just about any skirt to work with it!
Vogue 9197
Size 6 – 22
Full Bust: 30½″-44″
Waist: 23″-37″
Hips: 32½″-46″