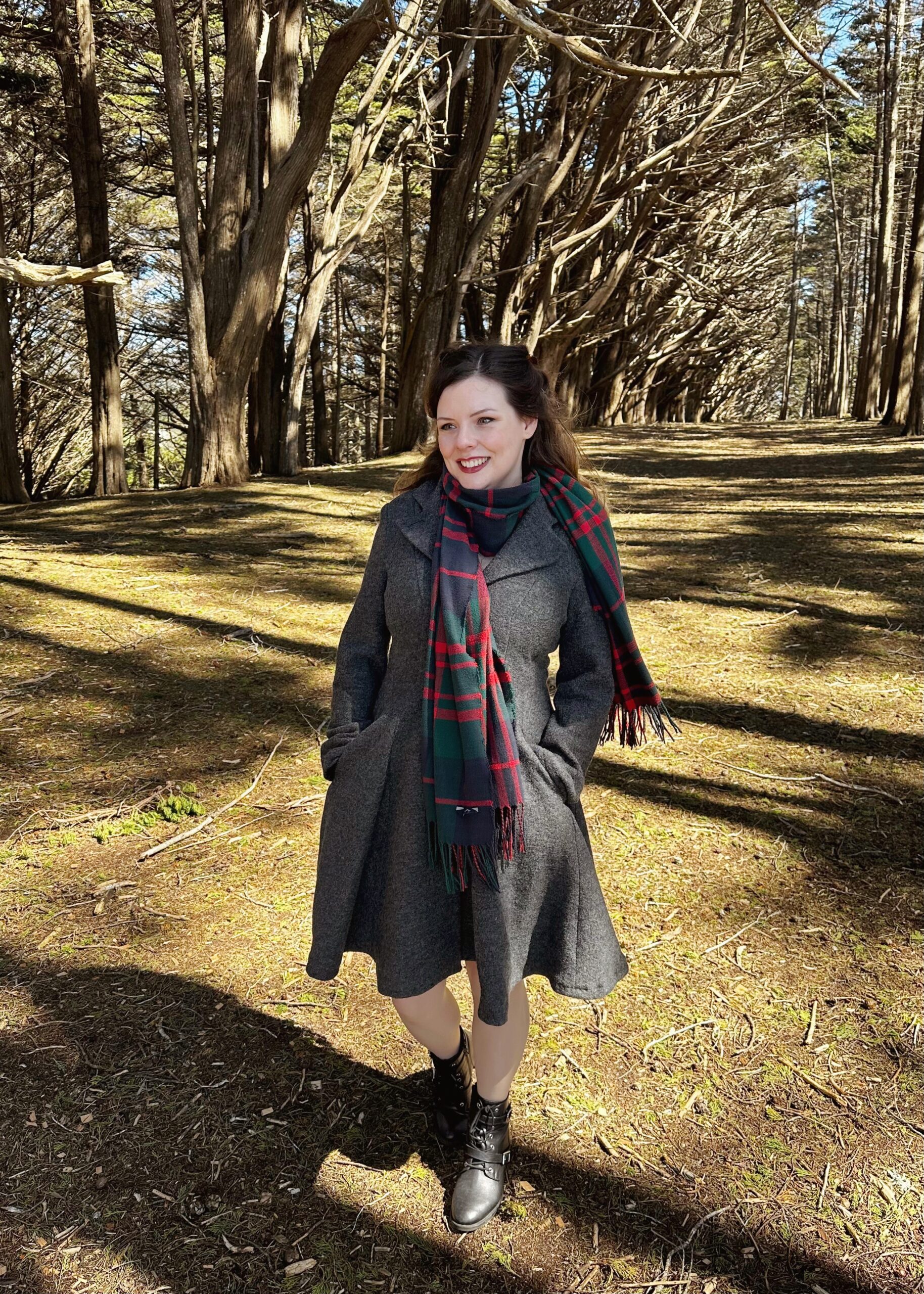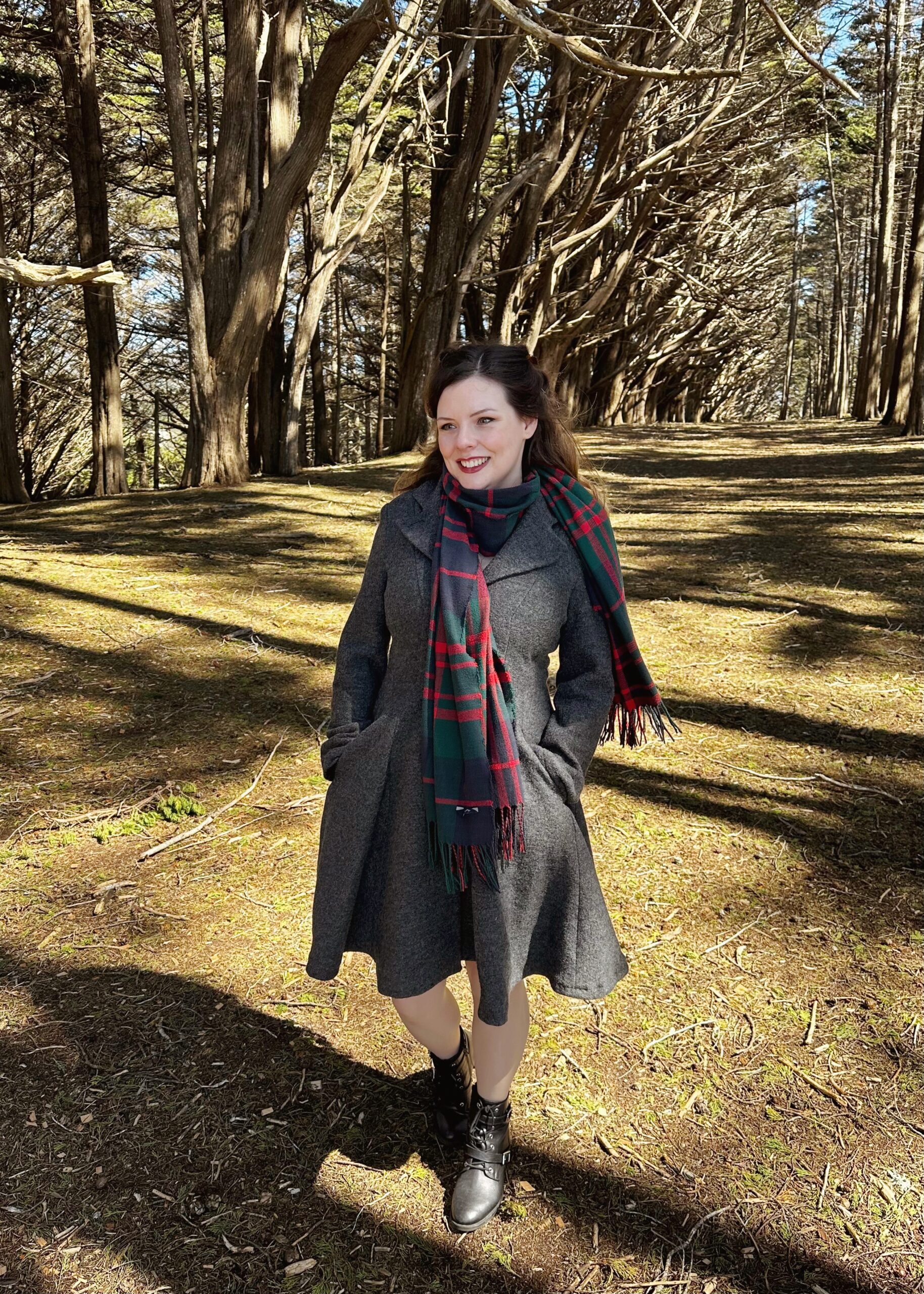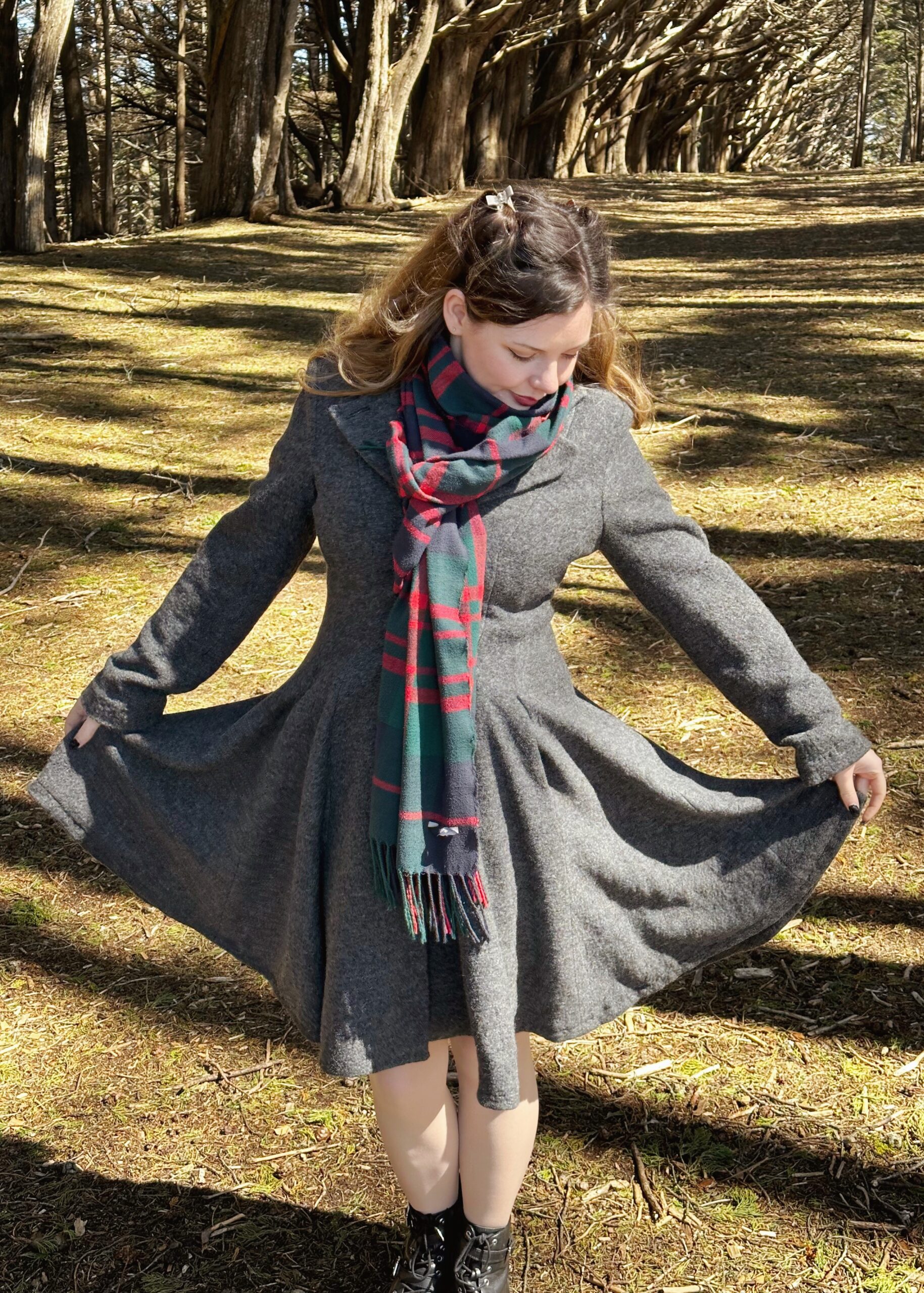 One of my genuine pet hates in winter is wearing one of my usual circle skirts and then having it smooshed under my narrow-cut, single-breasted coat. I just hate it! I hate how the skirt bunches up unevenly, I hate how it moves as I walk, I hate how it looks. I will usually then reach for my hip-length peacoat instead, and then waver… because I hate being cold the most of all.
So it was high time to venture into the world of making a coat; in particular, a coat that would be warm and cosy, at least knee-length, made from wool and fully lined, and – most importantly – gloriously twirly. Head over to Minerva to read my post, or scroll down for more photos and details!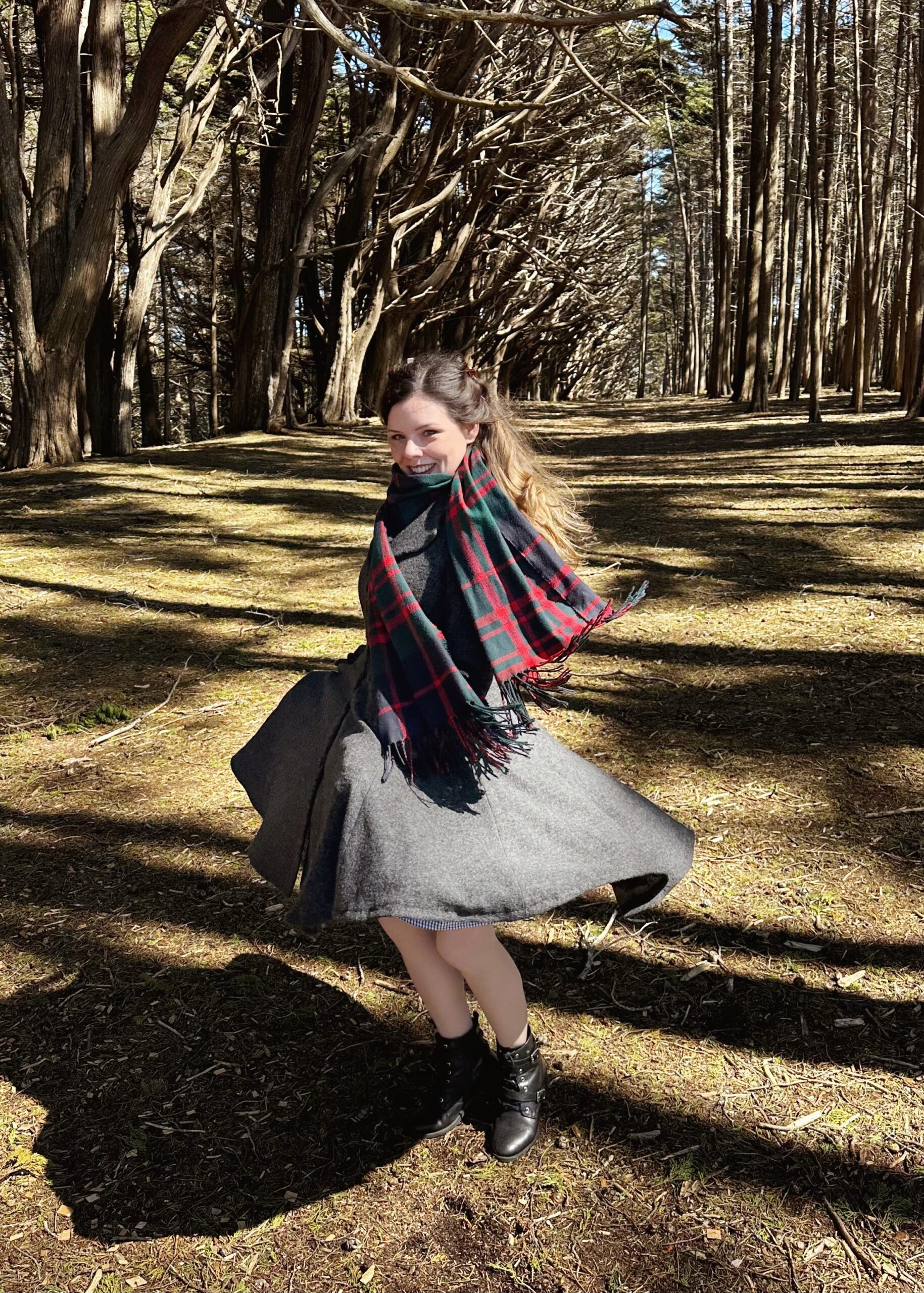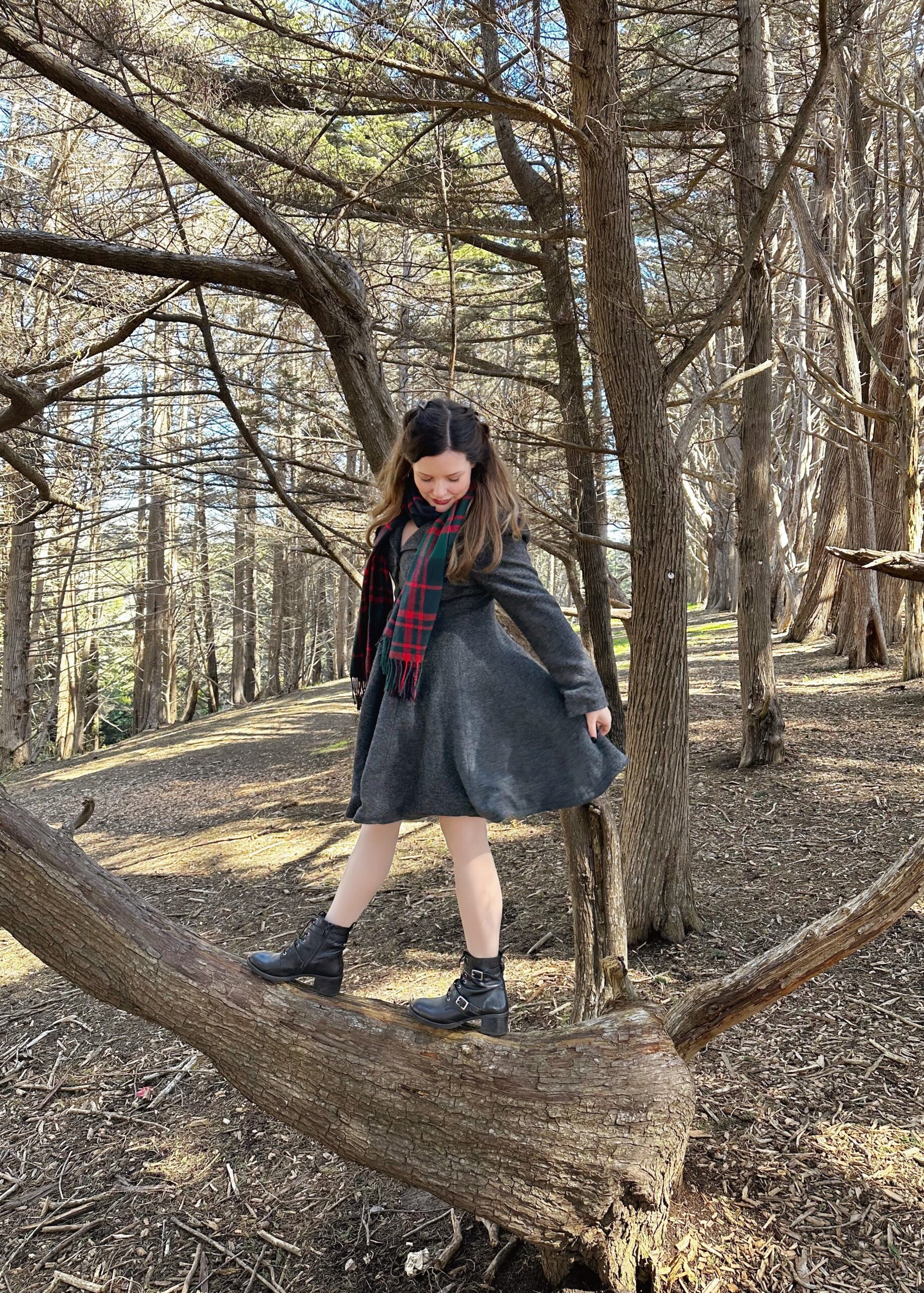 Can you tell I am delighted? I am so thrilled with the fact that I made this coat!, and I know I will get lots of wear out of it in autumn and winter (and also right now — what is up with this late April cold snap we are having here in Oxford?!).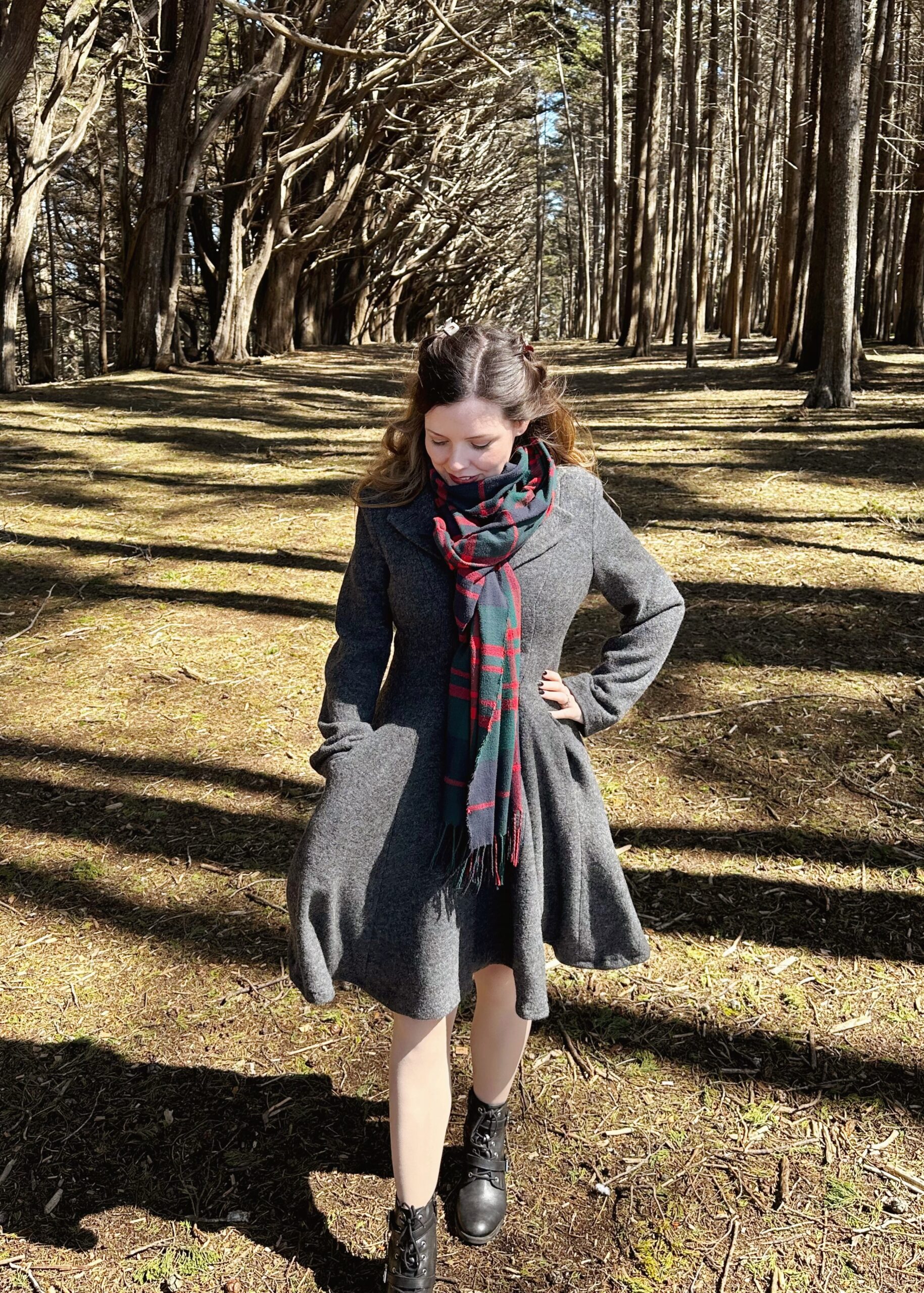 Minerva very kindly sent me 4.5m of this boiled wool/viscose coating blend as part of their Minerva Brand Ambassador program; I knew I wanted wool for this project, as wool has natural antibacterial and antimicrobial properties, and it is breathable and warm. Hey, it is a classic outerwear fabric for a reason! 😊 As I am usually wearing something bright and colourful in winter, I opted for this gorgeous charcoal grey shade, so it wouldn't end up clashing with multiple items in my wardrobe. It is a deceptively thick fabric, and surprisingly weighty once it was sewed up. There is a little width-way stretch to this fabric, which provides additional wearing comfort. My finished coat is super cosy, and I love the drape and movement of this fabric. It was incredibly easy to handle too, especially when cutting out — I found it to be very stable, and the thickness didn't make my sewing machine complain either. I didn't pre-wash this fabric, but instead prepped by pre-shrinking the wool with my garment steamer. I did find that none of my usual marking tools (Frixion pen, chalk, water-soluble pen) showed up on this fabric, so I instead used tailors tacks for marking dots and notches. The wool was a total dream to press, but using a tailors clapper made the world of difference to the seams — it is such a worthwhile investment if you are making a coat.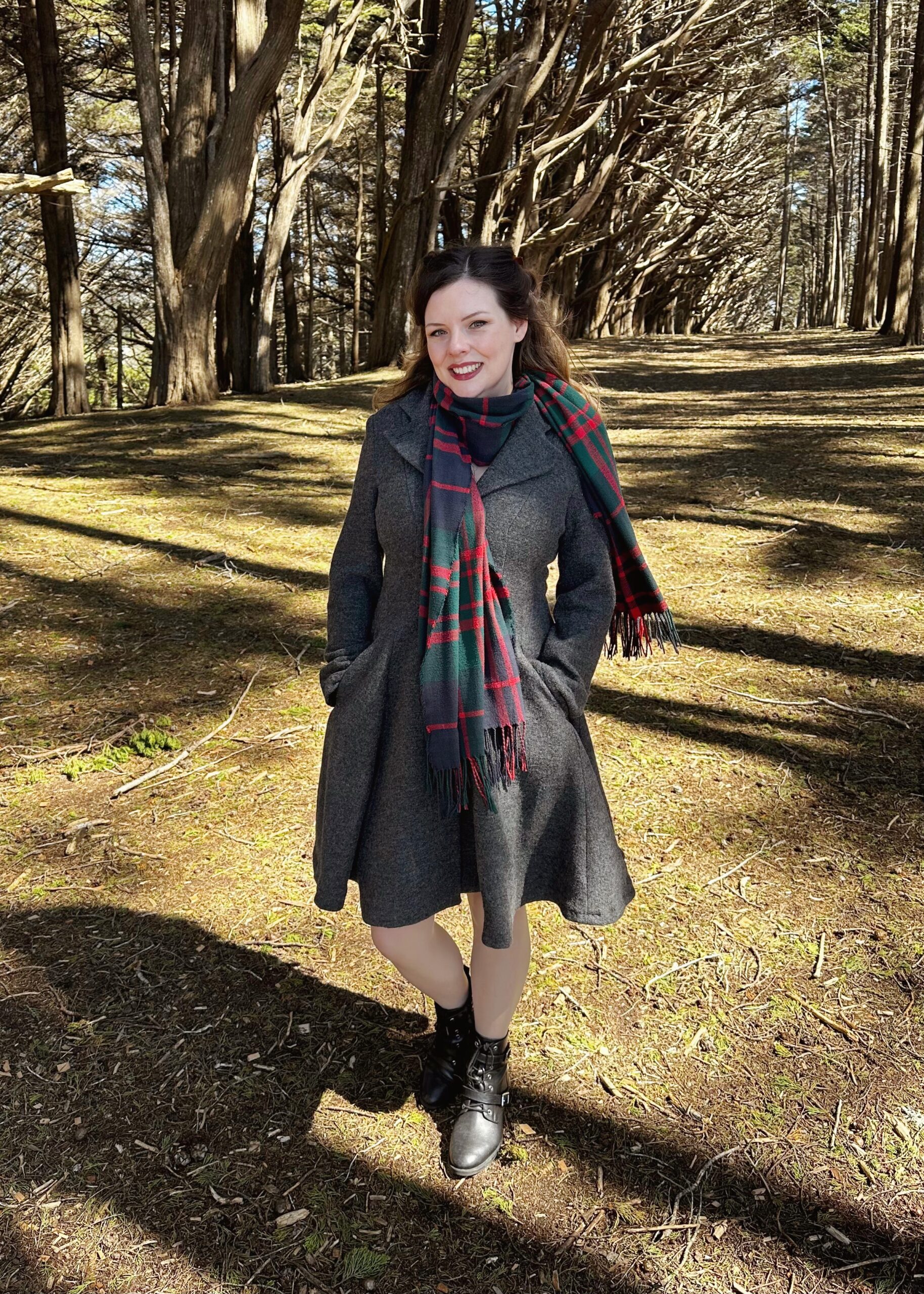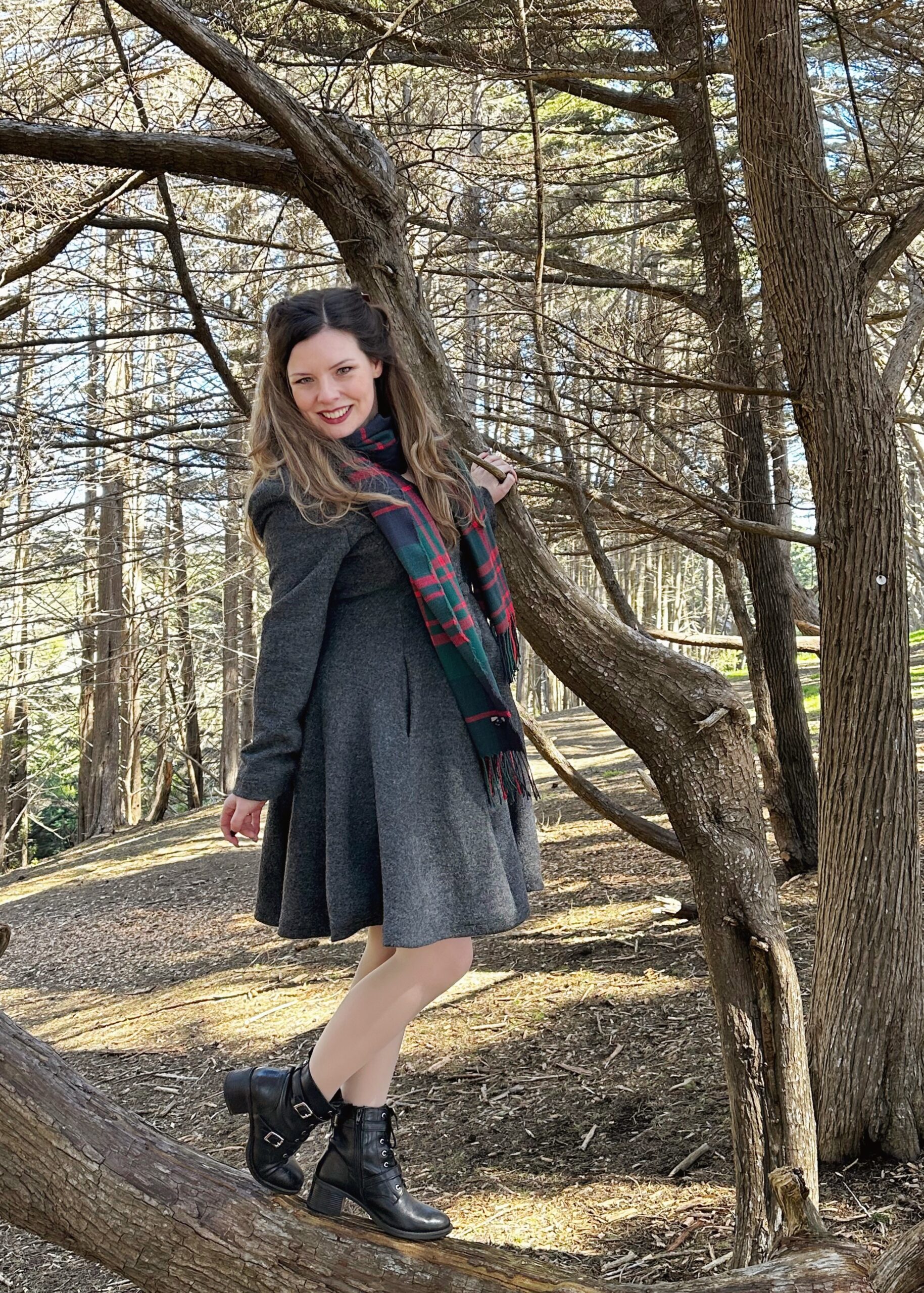 I was pretty much sold immediately on McCalls 6800, as it ticked the major box I was looking for: a full-skirted, lined coat pattern. There are four different views, with the collar designs or hem lengths as the main differentiating factor. I 'frankensteined' the notched collar of View B onto the straight hem length of View D, as I prefer open necklines on coats when wearing a scarf. I made up a straight size 12, with no fitting modifications, and found the instructions very easy to follow for a total novice of coat-making.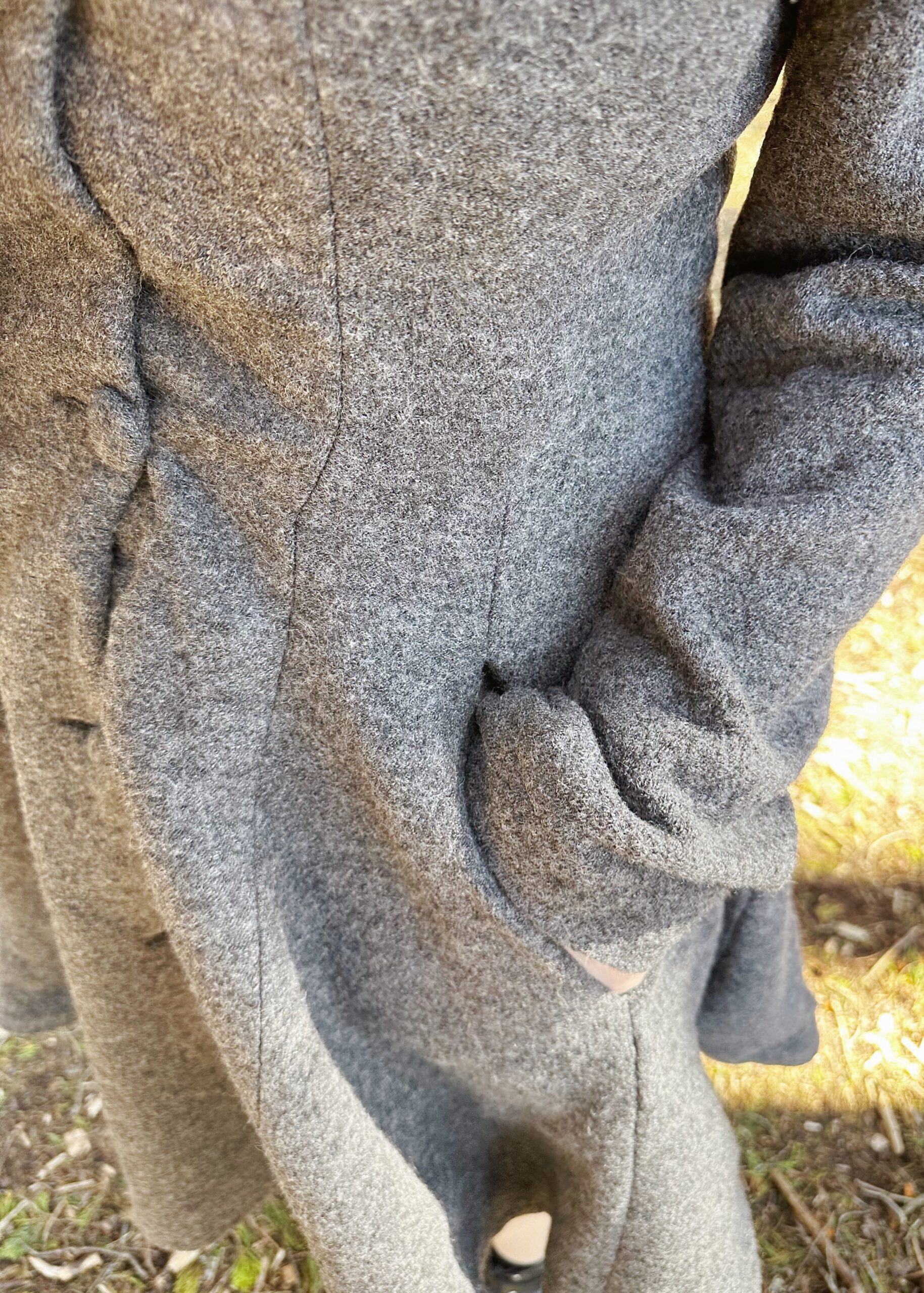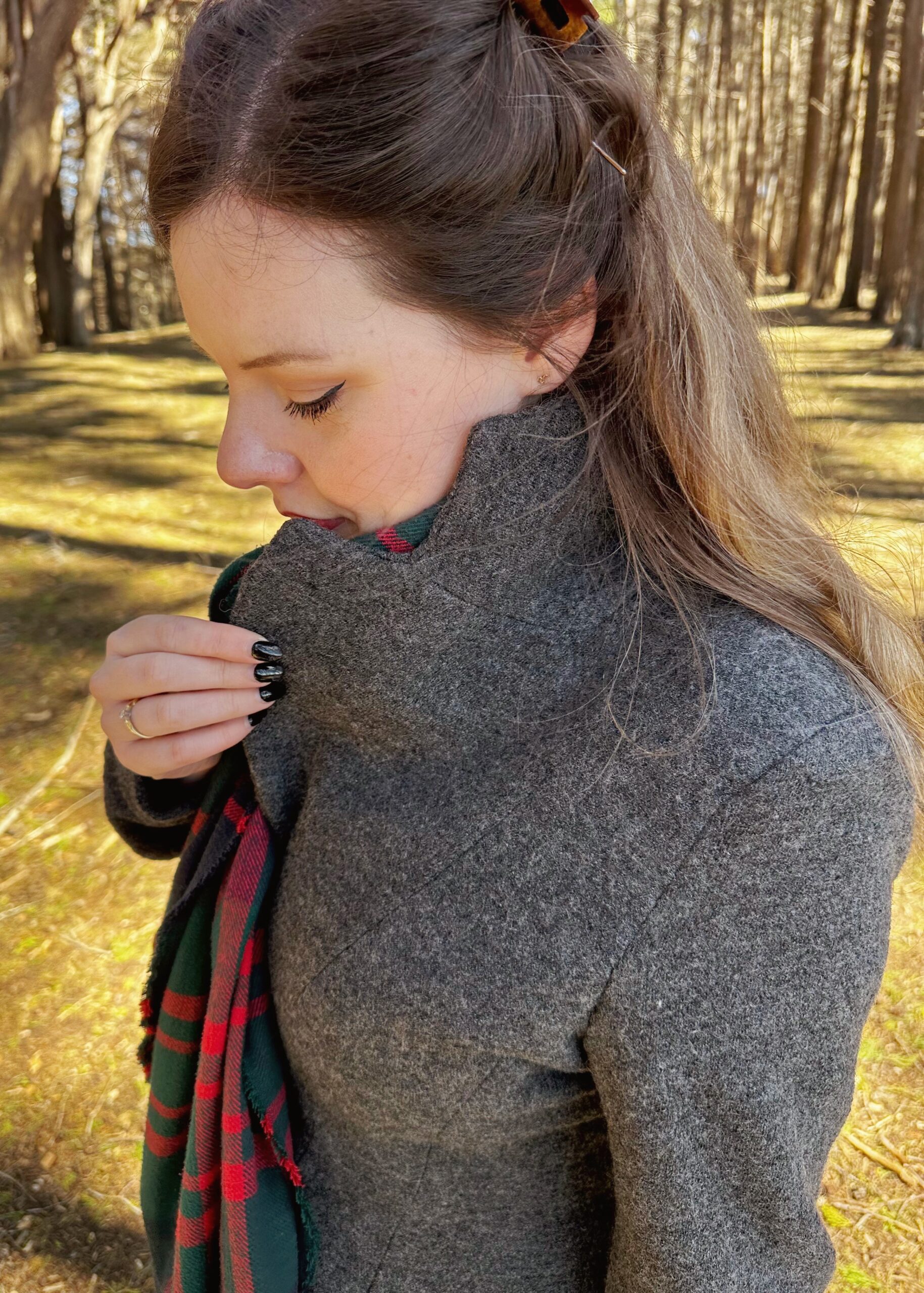 As only the wool fabric was supplied to me, I wanted to find a high-quality, affordable lining fabric that would add a bit of pizazz to this plain grey coat. I am a big believer of adding fun linings to projects as a secret bit of opulence, like a love letter to yourself! It is important for a coat lining to have a slippery, shiny fabric hand (so that you can easily slide your arms into the sleeves) and to be fairly lightweight (so you don't add unnecessary bulk), so I started hunting on Fabworks. I landed on a viscose/acetate jacquard twill in a peridot and gold colourway; acetate has the sheen, the drape and the cool, silky feel that makes a perfect lining. The jacquard woven design of mythological symbols is luxe and pretty unusual — there is an owl and books to symbolise wisdom, an hourglass to symbolise time, and musical instruments and artists palettes to symbolise the arts.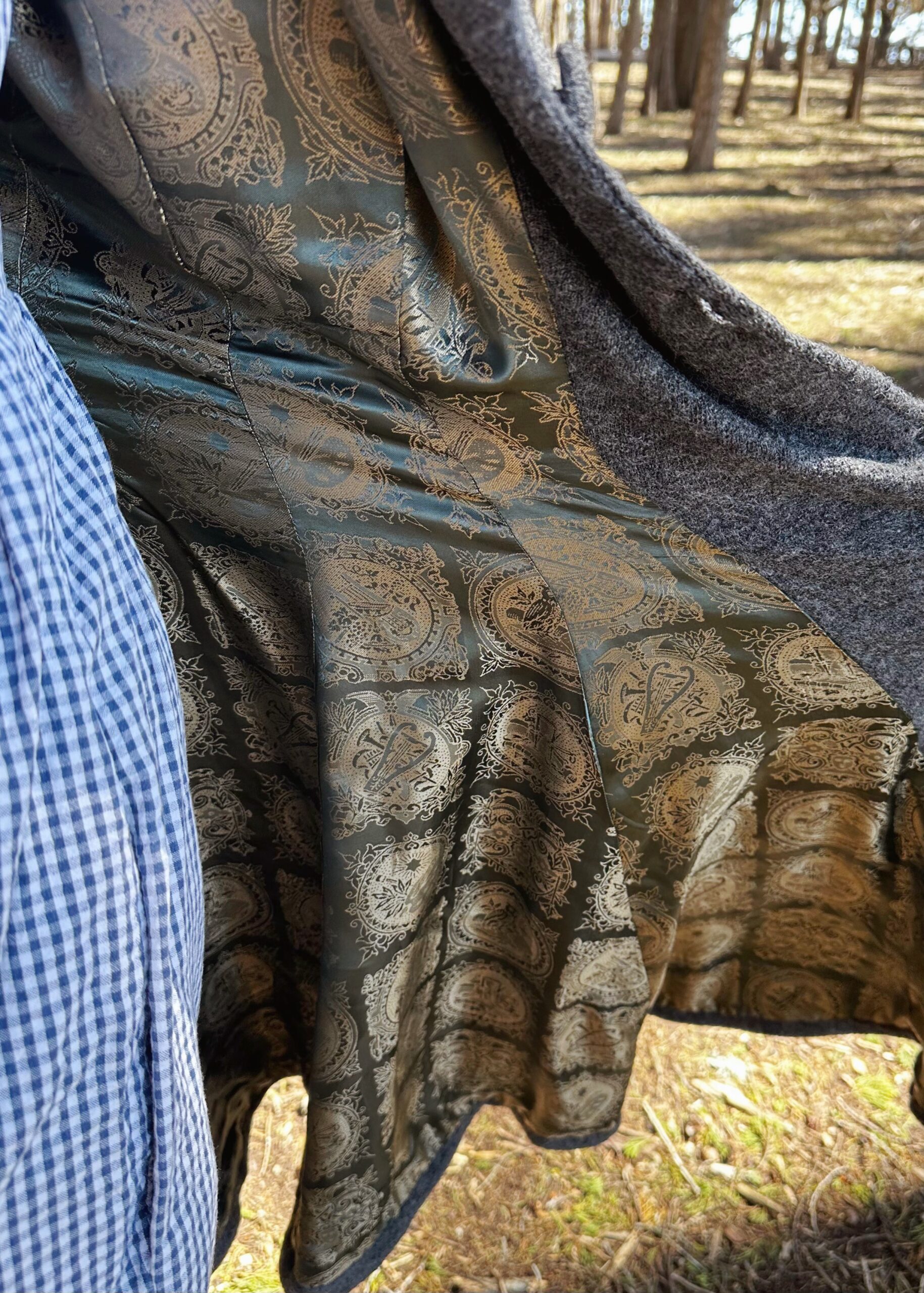 I chose to interface from the waistline up the entire back section, with a heavyweight fusible canvas, in order to give the coat some more structure. I also bought some small felt shoulder pads and a metal coat hanger chain from The New Craft House, and added one of my own labels.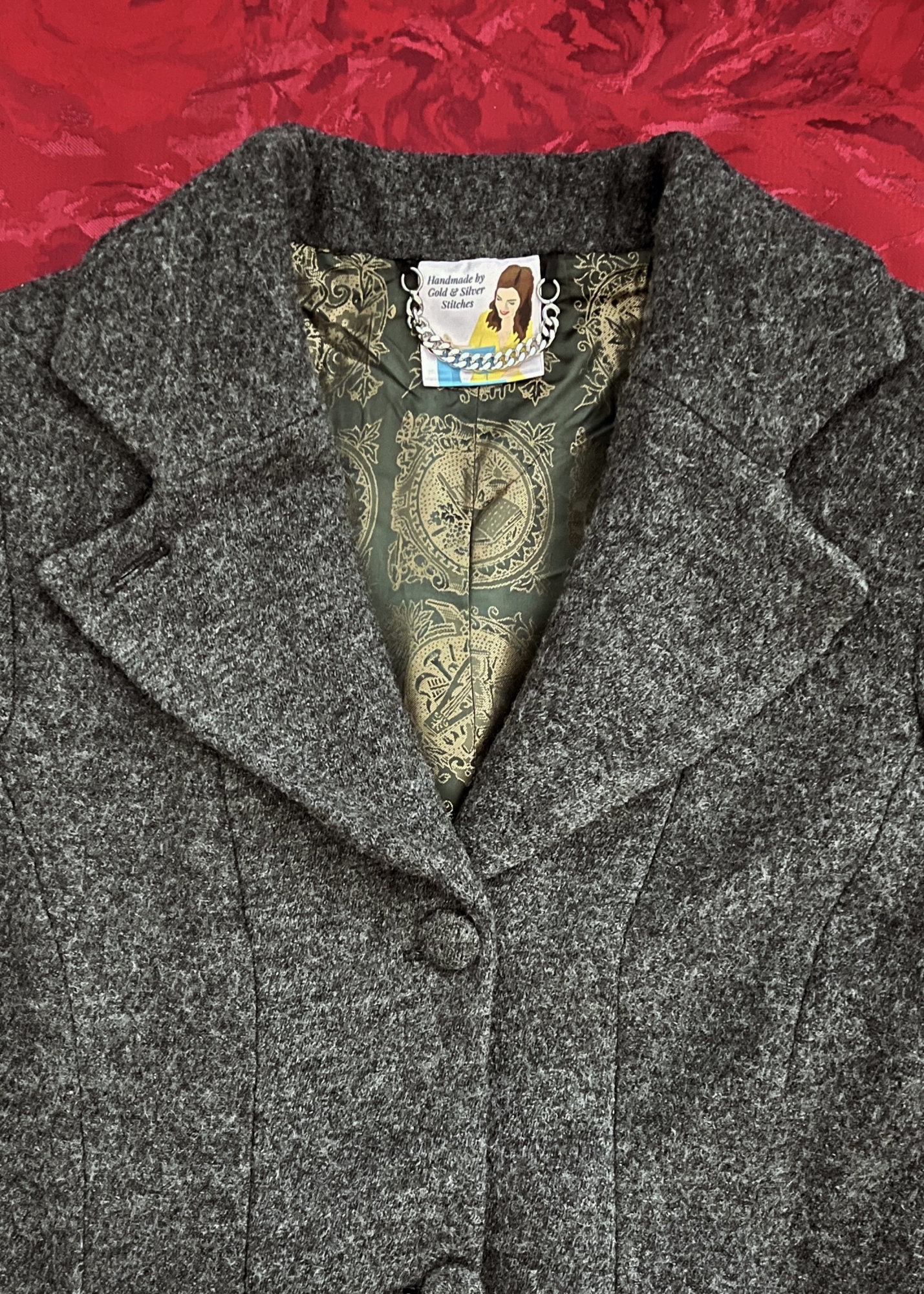 I found that using extra strong thread with a needle with a large eye worked really well in creating hard-wearing seams on the wool (I used normal polyester thread for the bobbin). I considered making bound buttonholes, but my practice tries were highly unsuccessful! Luckily, my machine was fine going through multiple layers of thick, interfaced wool to make normal buttonholes 😊 I had a minor disaster in an attempt to 'bag out' the lining; I hadn't realised how much the bias had dropped, and the hem was truly atrocious looking. I quickly unpicked, levelled the hem, and stitched it in place — although next time, I will definitely use a blind hem, to keep everything looking neat.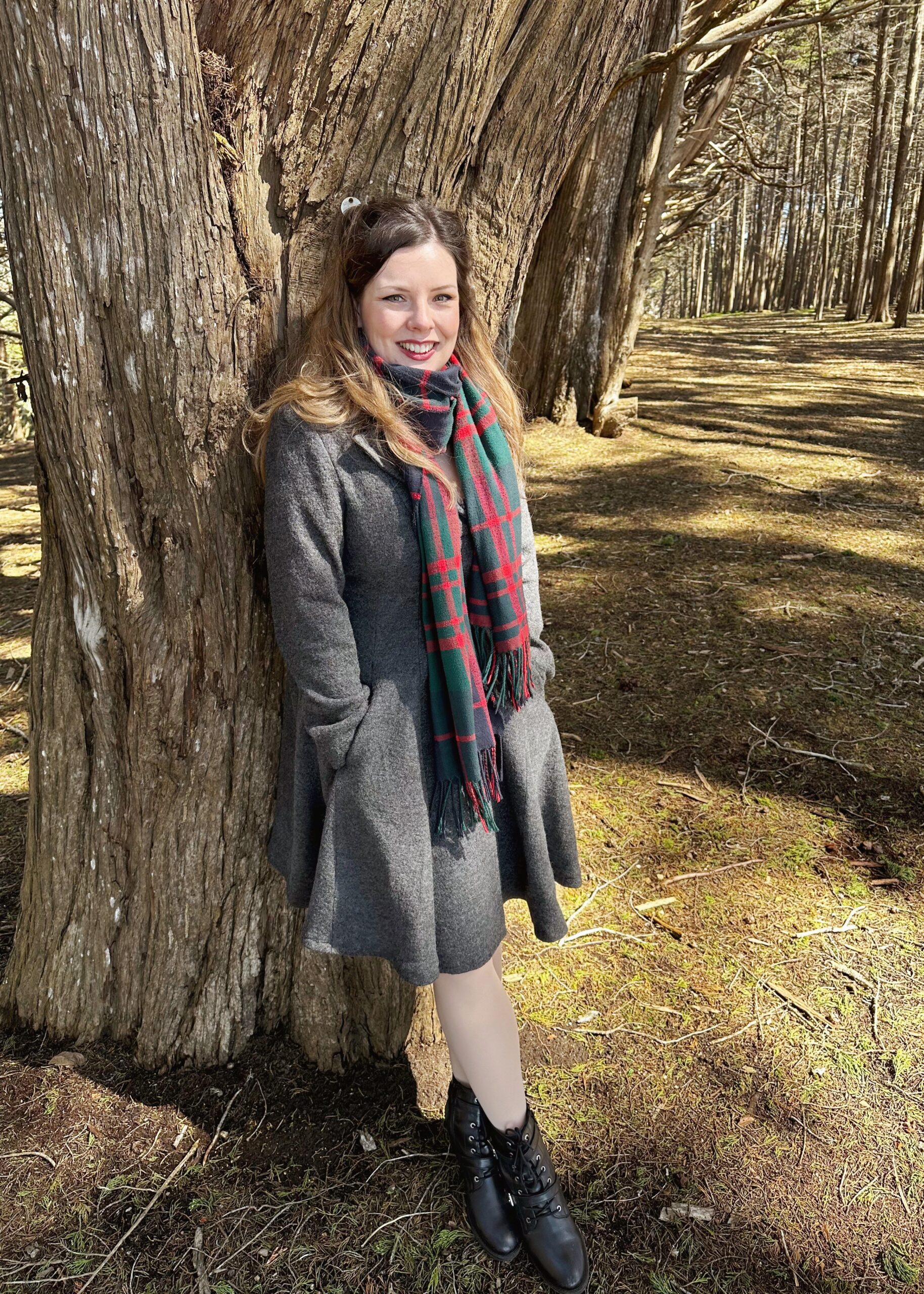 Embarking on such a big project and for it to be successful is so rewarding. I honestly would have never imagined being able to sew something like this when I first started sewing three years ago, but my confidence has really grown with every garment I have made. I am surprised by how much I enjoyed the tailoring aspects of making a coat, and I now have a husband making some not-so-subtle hints for a jacket of his own! 😊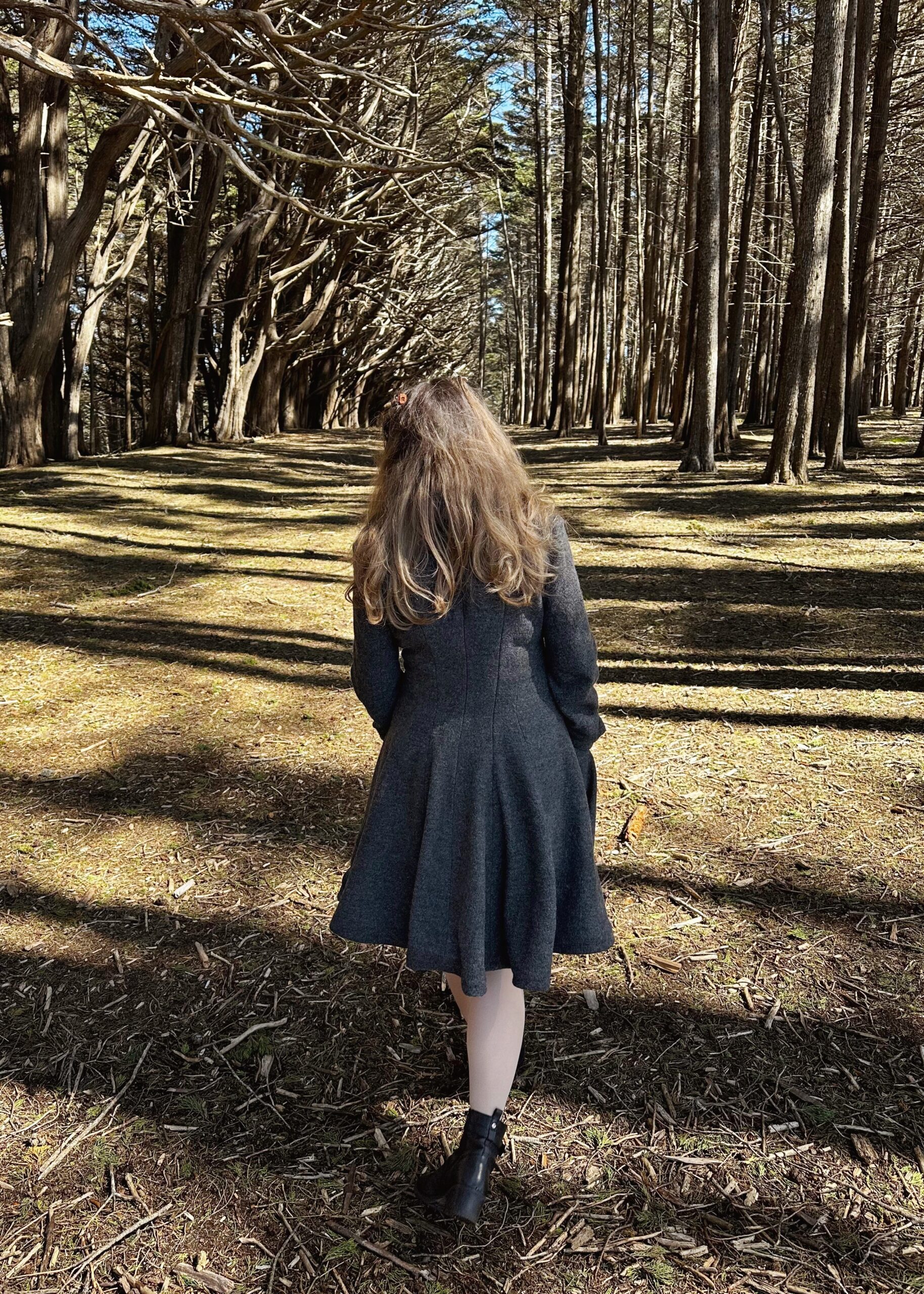 McCalls 6800 Coat
Size 6 – 22
Full Bust: 30.5″-44″
Waist: 23″-37″
Hips: 32.5″-46″