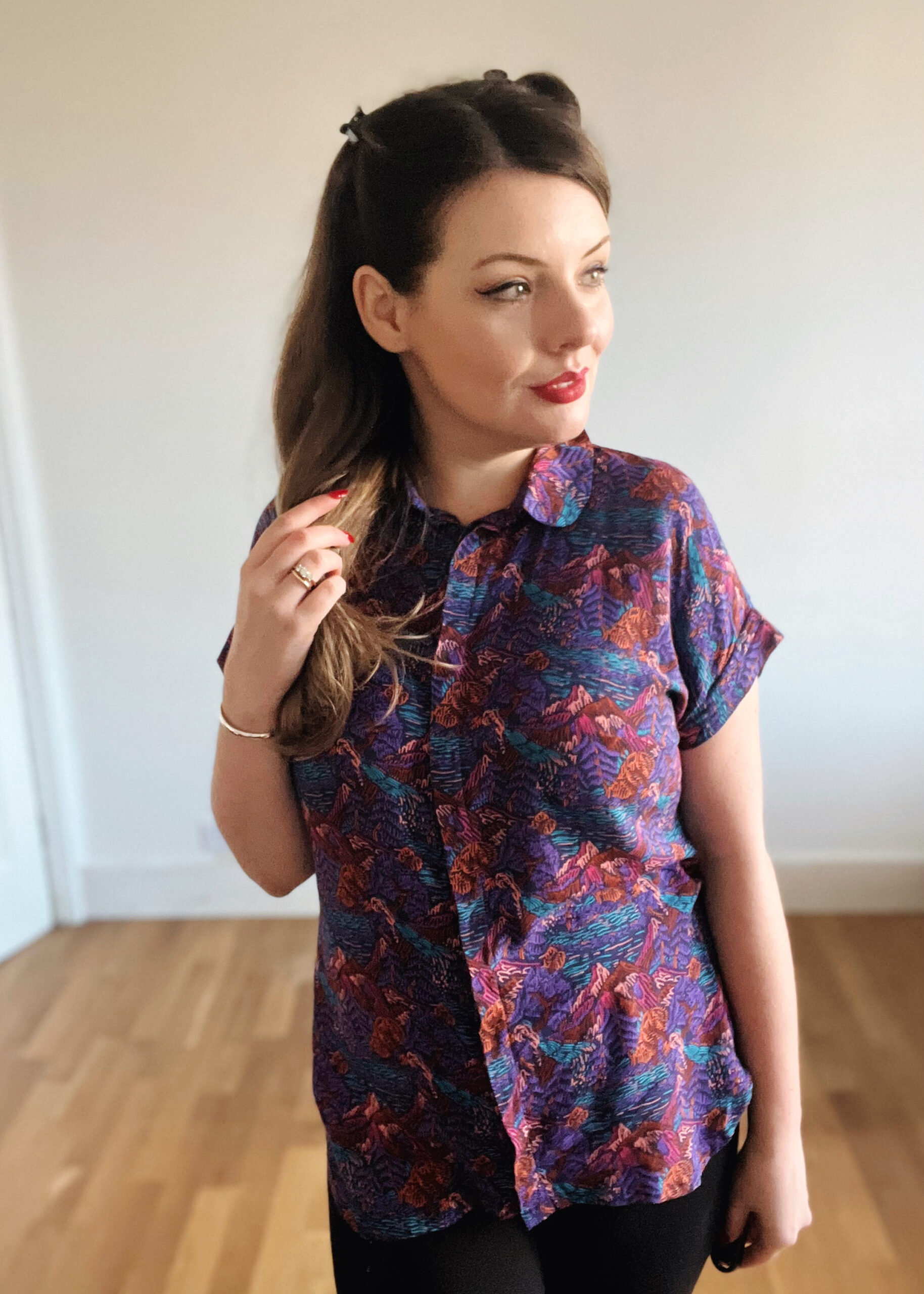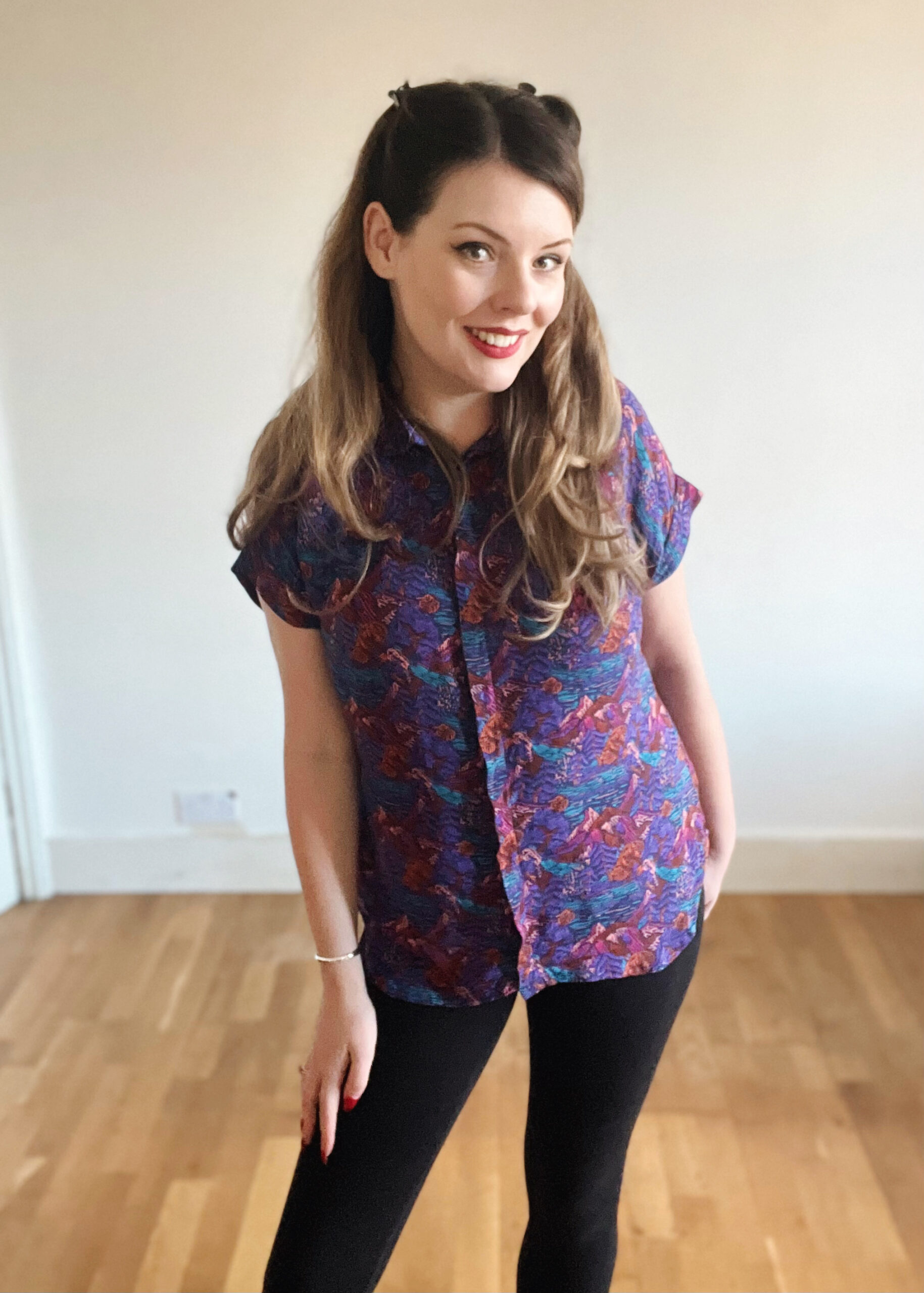 Another project ticked off my Make Nine 2022 — this gorgeous Deer & Doe Mélilot blouse 😊 It may not be super seasonally-appropriate for FREEZING December, given that I made it up in a wafty viscose and opted for cuffed short sleeves, but no regrets here whatsoever, as I fully love this blouse… although I admit to have been wearing it with a thermal top underneath!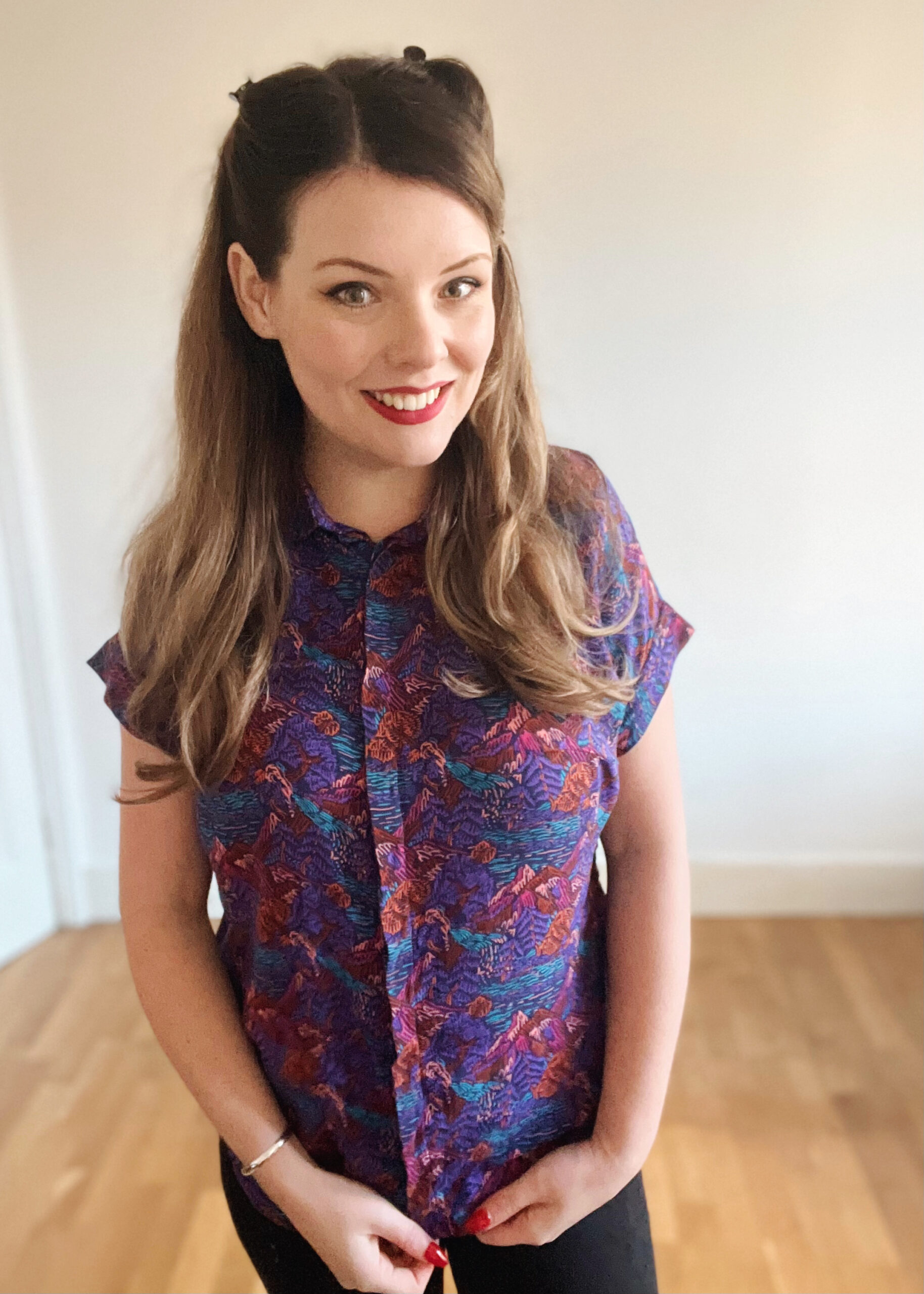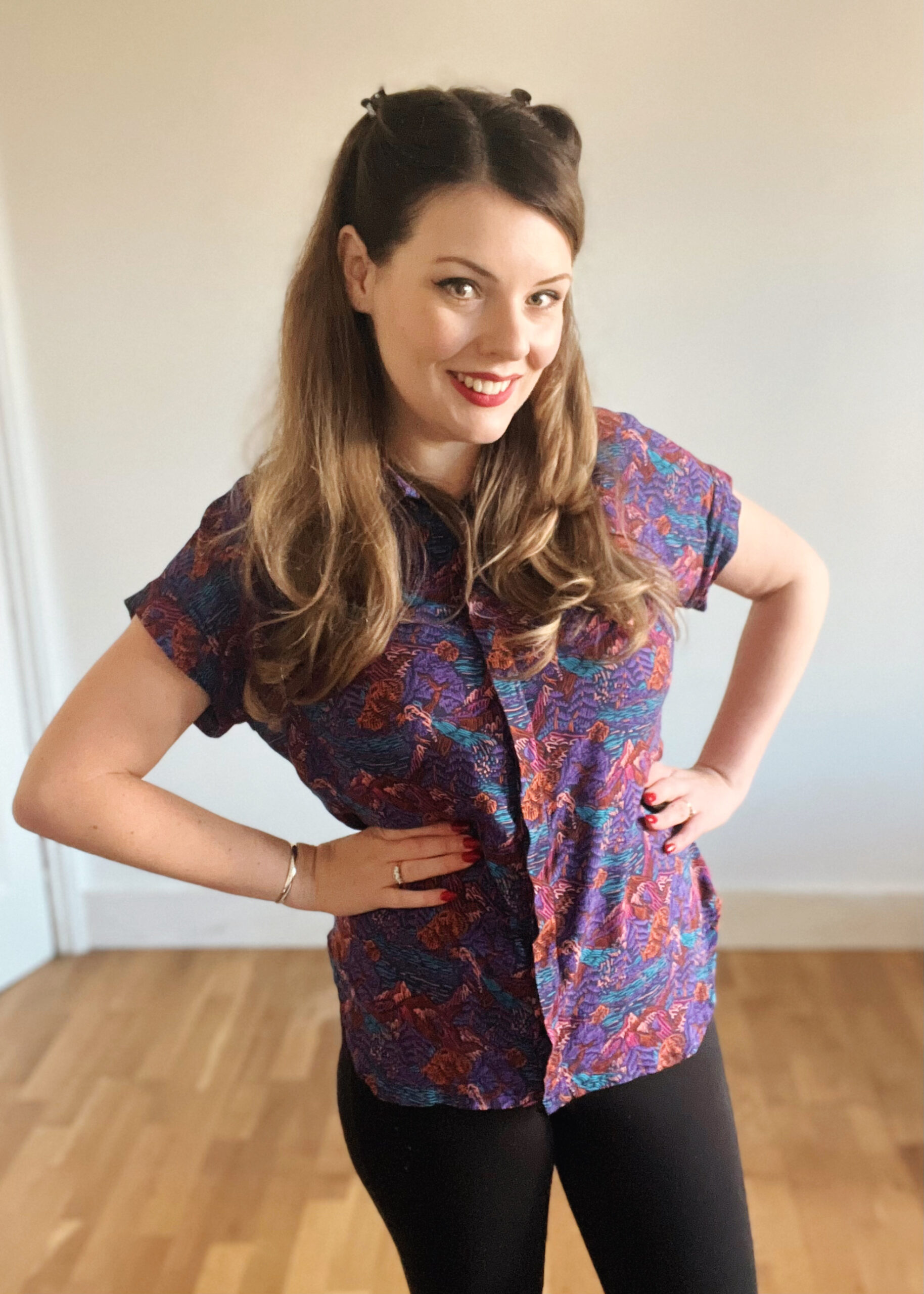 I have previously written about how much I adore the impossibly chic Make My Lemonade and their fabrics; I made up a Tilly and the Buttons Indigo smock top in their gorgeous 'Coquillages' viscose two years ago, which is so vibrant and instantly puts a smile on my face whenever I wear it. I fell in love with the 'Fuji' viscose when I saw it made up as this blouse from their RTW collection: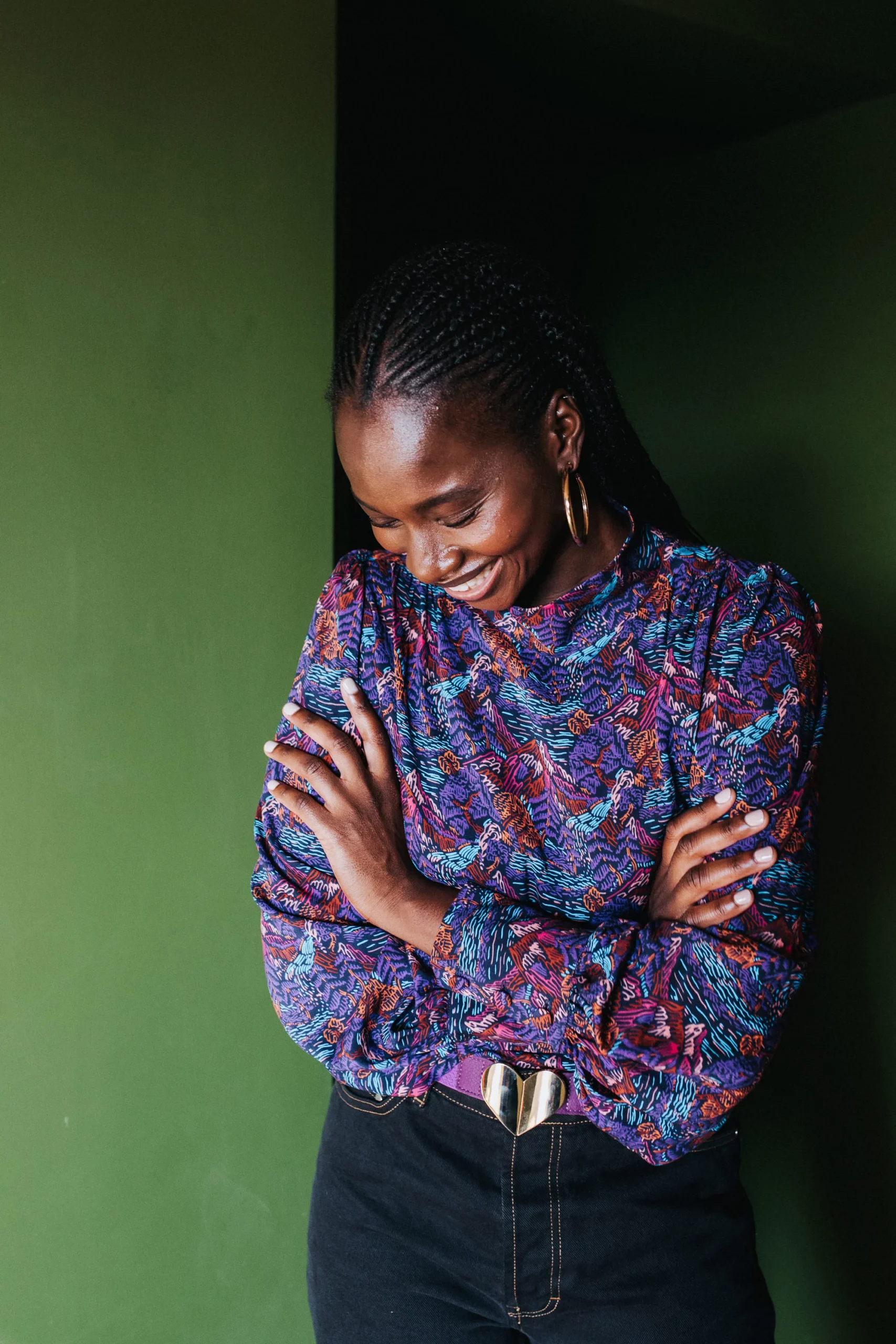 When I saw that it was available as a 1.5m coupon (a pre-cut length of fabric sold in French fabric shops), I was totally smitten. Simon very kindly bought it for me (having a husband who sends sewing/fabric gifts is the absolute best), and I cannot recommend the quality enough. This lightweight viscose is so smooth and silky, with a beautiful fluid drape. The colours are deep and saturated, with a print of sketched, abstract mountains. I made sure to handle it with care, by washing on a cool, gentle cycle and pressing at a low heat.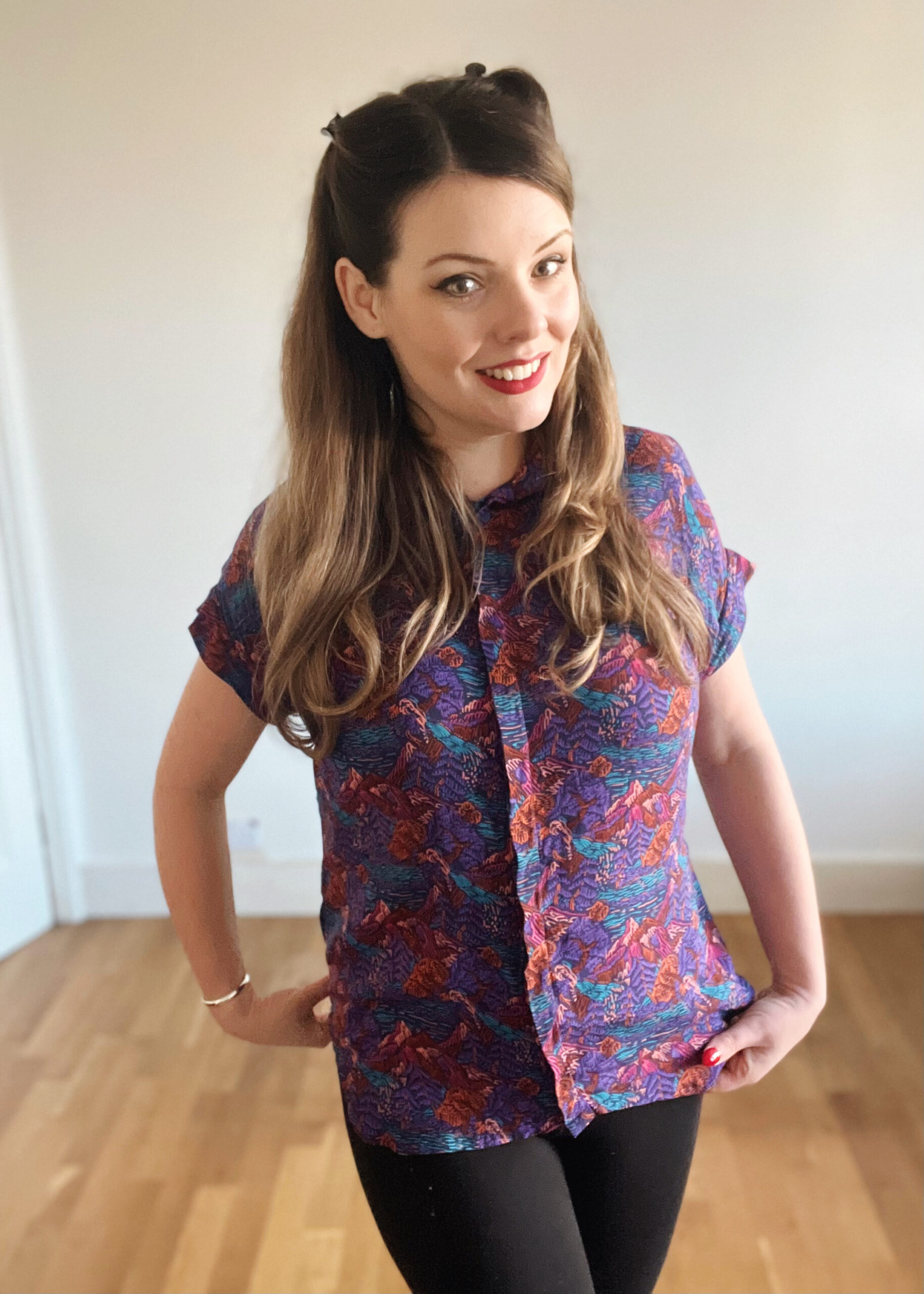 When discussing how to best use fabrics from chic Parisian boutiques, it only makes sense to use a pattern from a French company that is equally stylish and modern! I have tried a couple of Deer & Doe sewing patterns already (and have several more in my sewing plans) — I really like Deer & Doe patterns; they are really thoughtfully designed, and I think their drafting works well with my figure. The Mélilot blouse in particular looked like it would be the perfect pairing with my fabric.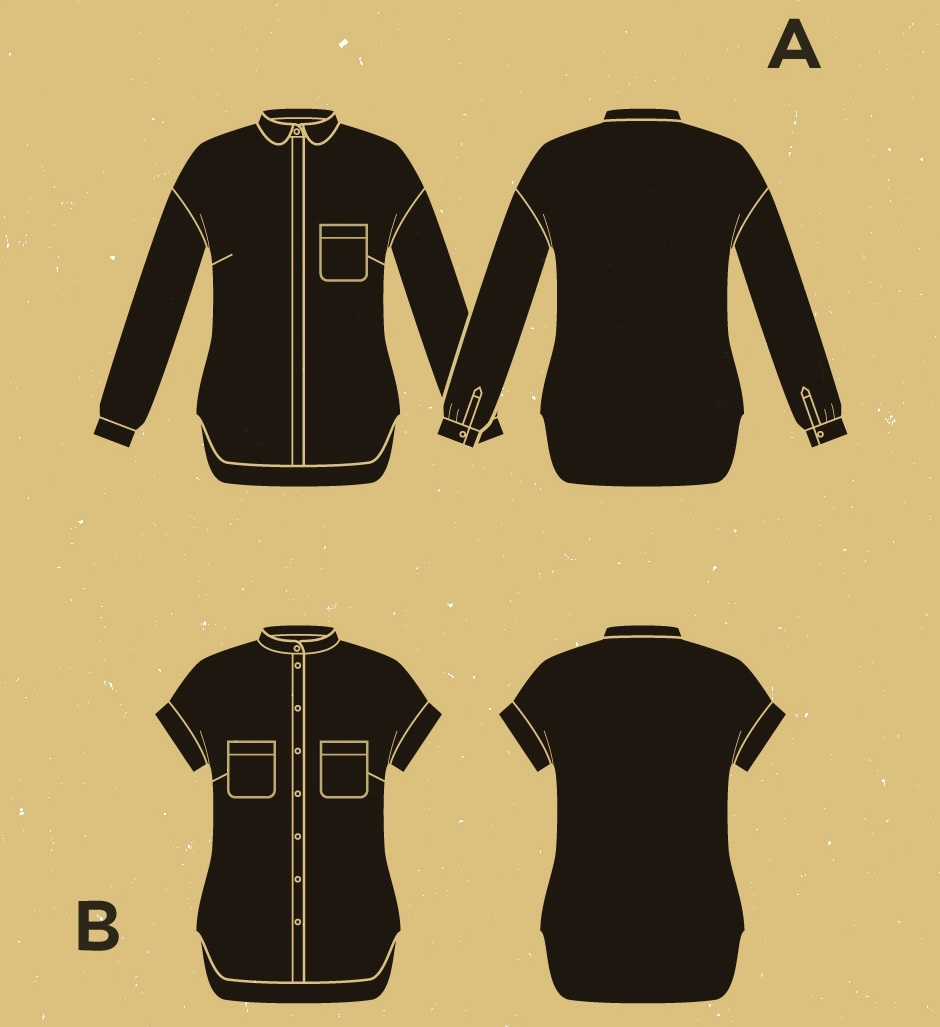 The Deer & Doe Mélilot Shirt is a twist on a classic button-up, with a relaxed fit, bust darts, drop shoulders, chest pockets, and a deeply curved hem, which mimics the lines of a men's shirt hem, but with lots more drama! There are two options; View A has a covered button placket, a rounded collar, and long sleeves, whereas View B has a standard button placket, a Mandarin collar and short cuffed sleeves. I did a mix and match between the two views, opting for the covered button placket, the rounded collar and the short cuffed sleeves.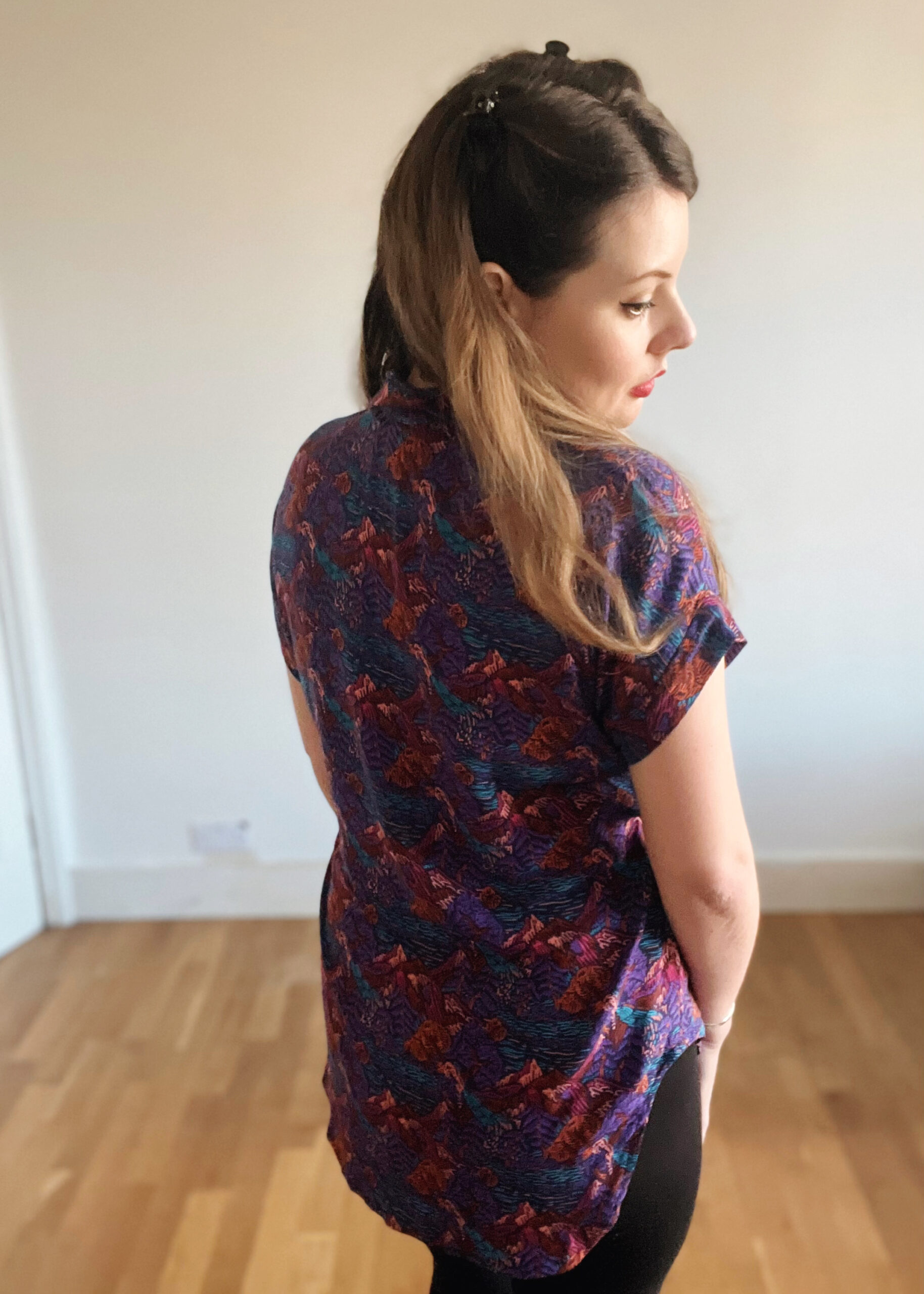 As always, the instructions and fit for Deer & Doe patterns were great. Based on my bust measurement, I made a Size 40 to be safe (nothing worse than gaping buttons at the bust in a shirt, I still have nightmares about my uniform blouse at an old job at a bar that I had to safety pin shut for modesty!) and no other adjustments, and I am thrilled with the final fit. I used the recommend French seams throughout to elevate this blouse further, and followed my go-to collar tutorial to make sure I assembled a perfect Peter Pan collar. I found the covered button placket was a bit tricky to visualise with the instructions alone, but there is a Cashmerette video tutorial that helped me out big time! I also skipped the pockets, as I preferred the look without when I had them pinned in place.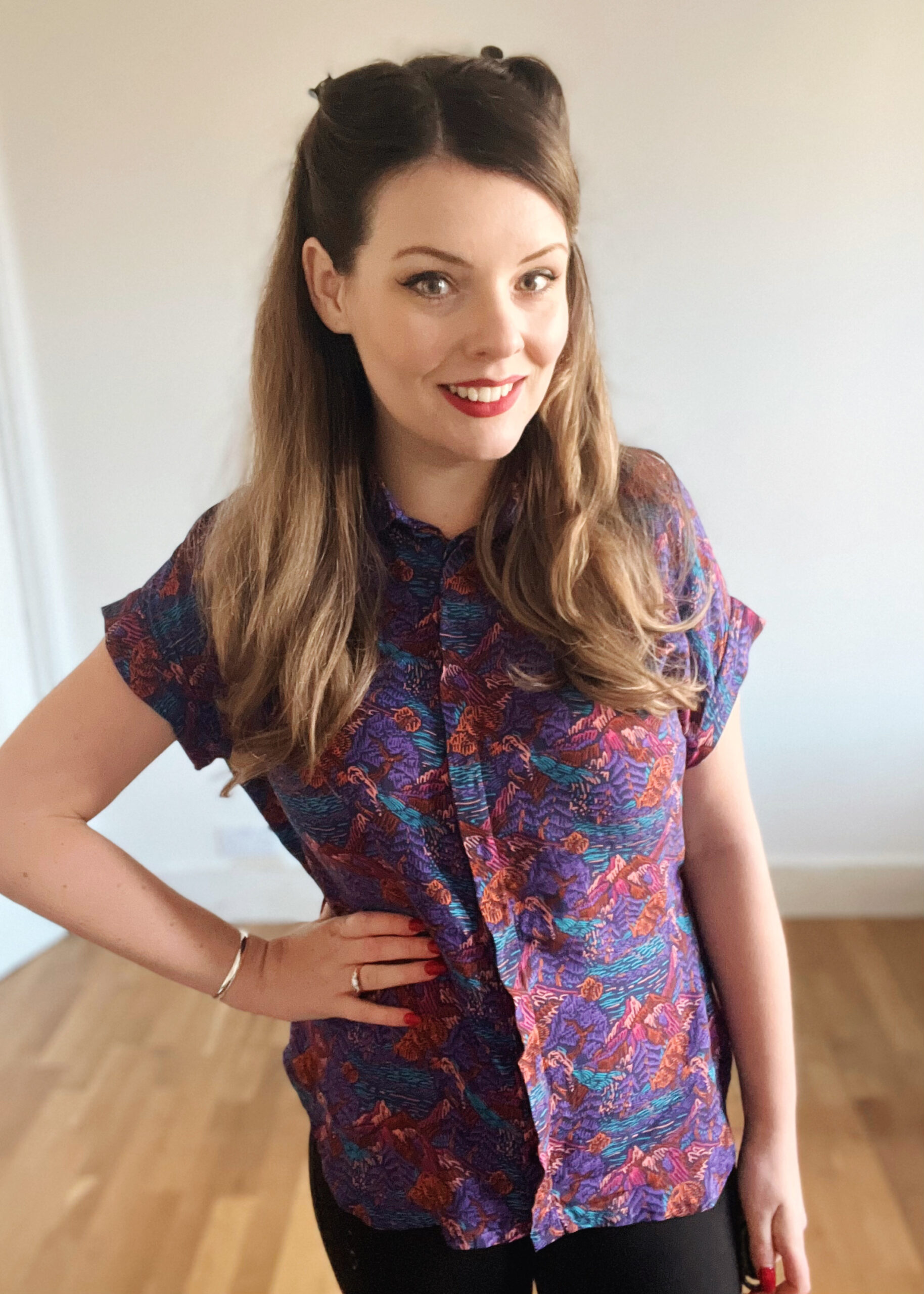 As one of my final completed projects of 2022, I am pretty proud of this shirt. It is pretty on the inside, pretty on the outside, and I feel happy with both my construction and how I feel when wearing it! Next time I make the Mélilot shirt, I will finish the hem with self-made bias tape, as I think that would be easier around the curves.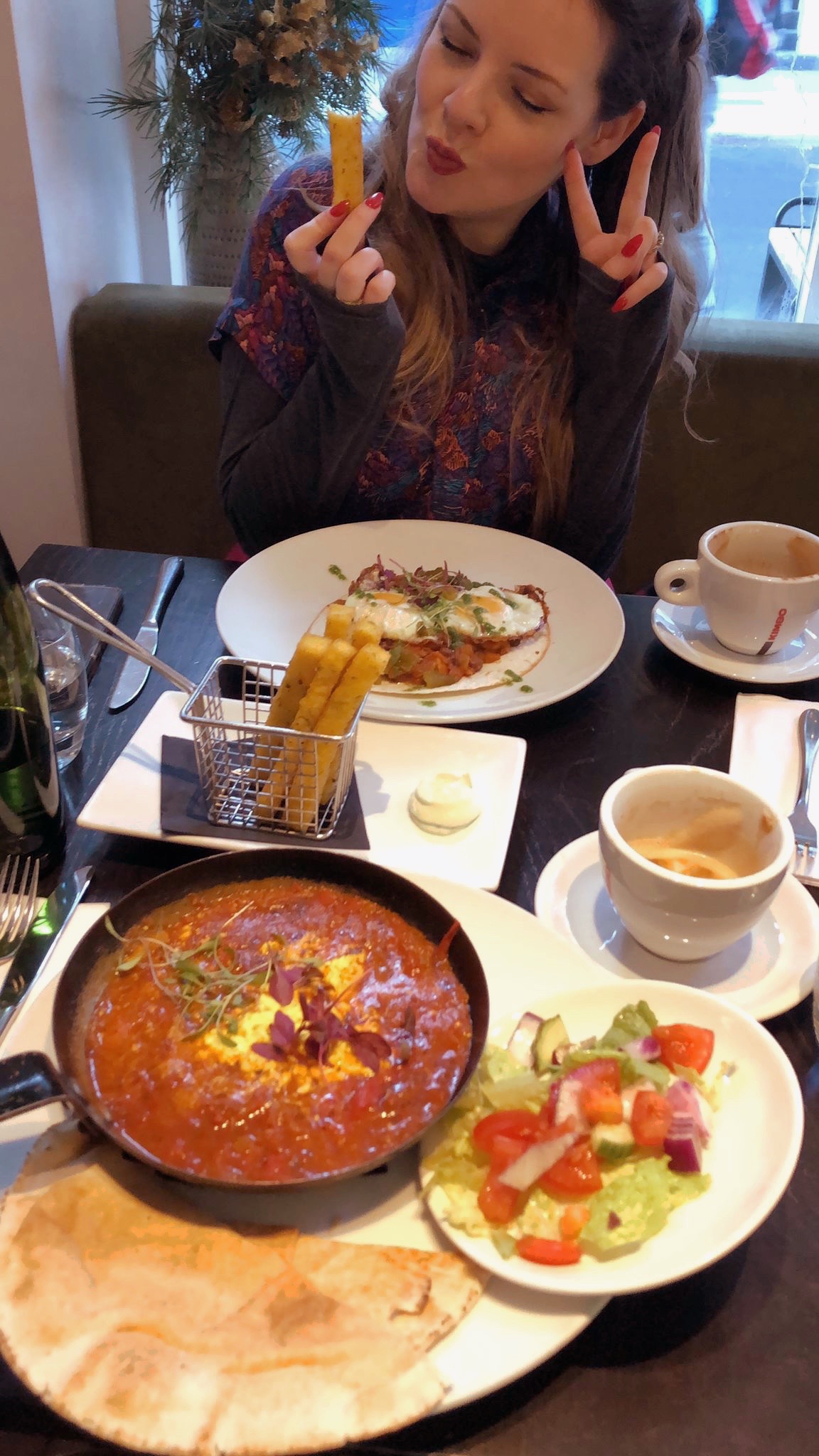 The face of me having zero regrets in wearing my light summer blouse in mid-December to brunch with my best friend, and also having zero regrets ordering polenta fries for breakfast.
Deer & Doe Mélilot
Size 34 – 52
Full Bust: 31½" – 45⅝"
Waist: 23½" – 37¾"
Hips: 33¾" – 48″