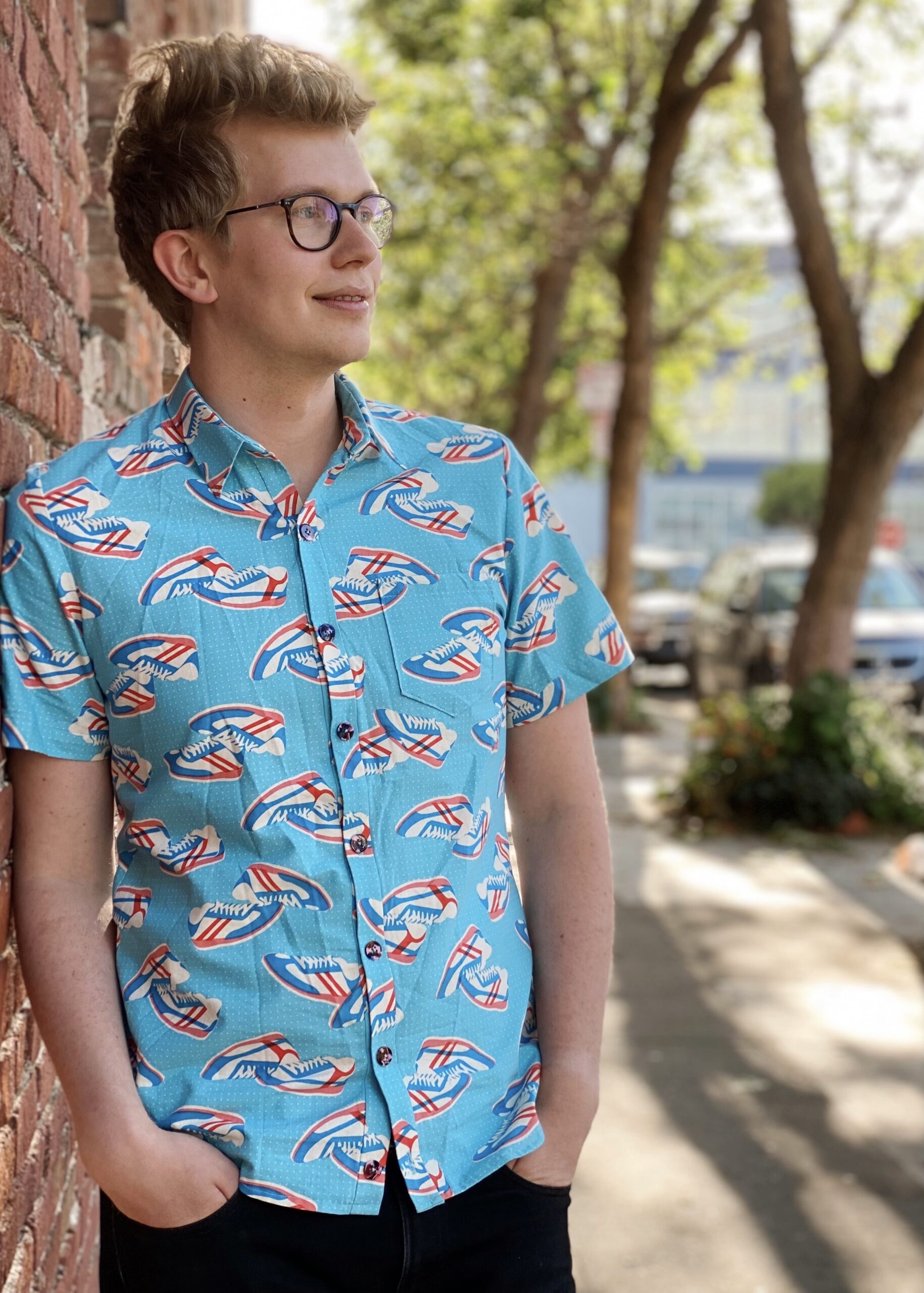 My boyfriend Simon lives across the pond in sunny California — after these endless days of May downpours, I am even more envious of that fact than I usually am — and is the recipient of my (rare) instances of selfless sewing. I made him the most amazing pair of pretzel-print pyjama bottoms for Christmas last year, and he put in a request for another garment. This was my first attempt at seriously making menswear, so I decided to go for a shirt, because I am apparently equal parts brave and equal parts deeply foolish. I never make things easy for myself…
As this was my first time making a menswear shirt, I opted for a stable cotton and picked out this super-cute design called Kicks by Melody Miller from Cotton + Steel. The shade of sky blue is so lovely and I think the sneaker print is very fitting for Simon's San Franciscan cool vibes 😊 I also really love how straight-up cheerful this print is! It has a vertical repeat and is on a narrow 115cm bolt, so it took a little pattern juggling to get the sneakers running horizontally. Like all Cotton + Steel substrates, the quality of this quilting cotton is fab; the fabric was so easy to cut and sew, which was just what I needed after recently working with some super-shifty silk. I also picked up my favourite Pigeon Wishes resin buttons in Botanical from Hey Sew Sister, which are such a perfect finishing touch — the swirls of the different colours provide a strong contrast against the sky blue.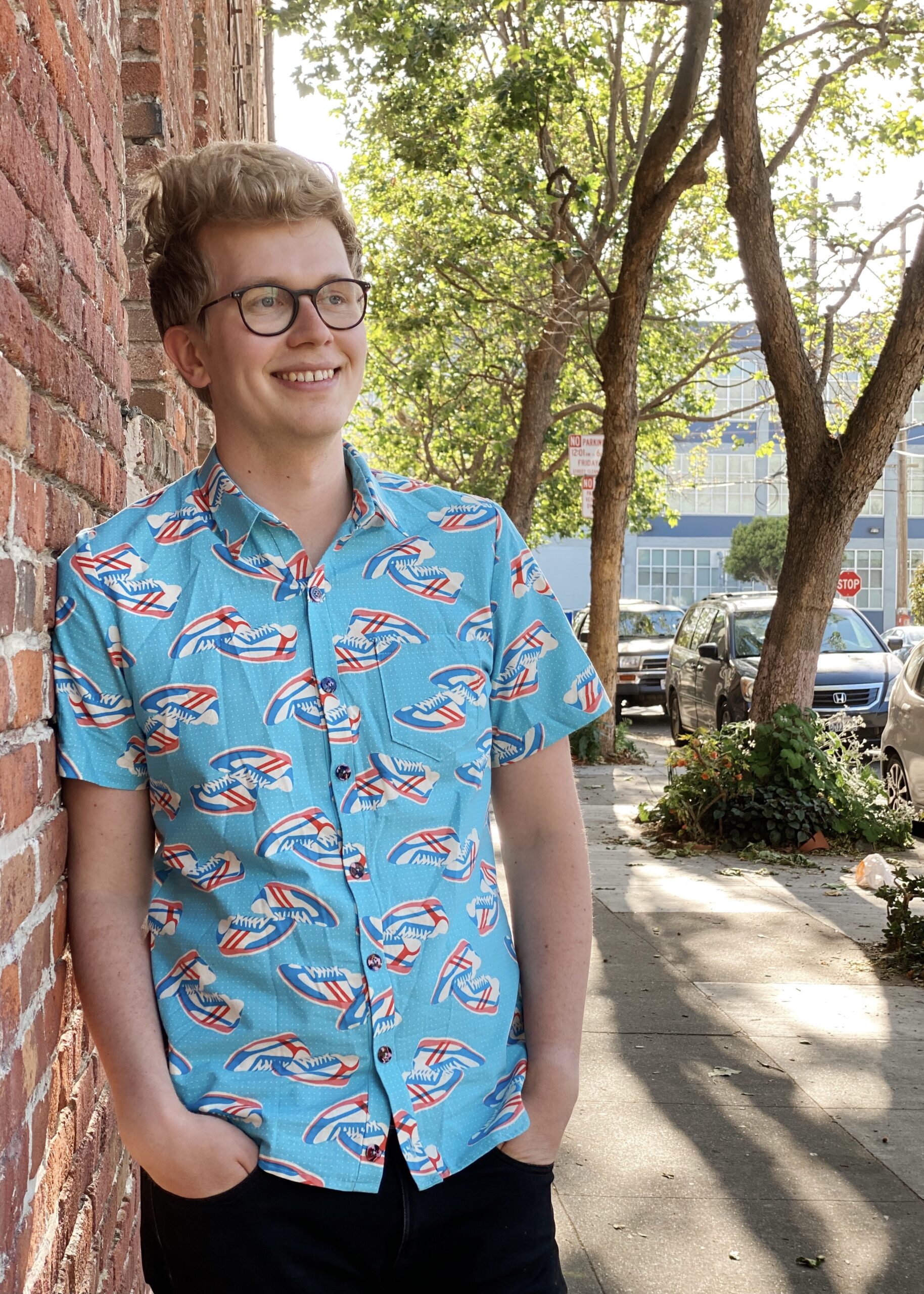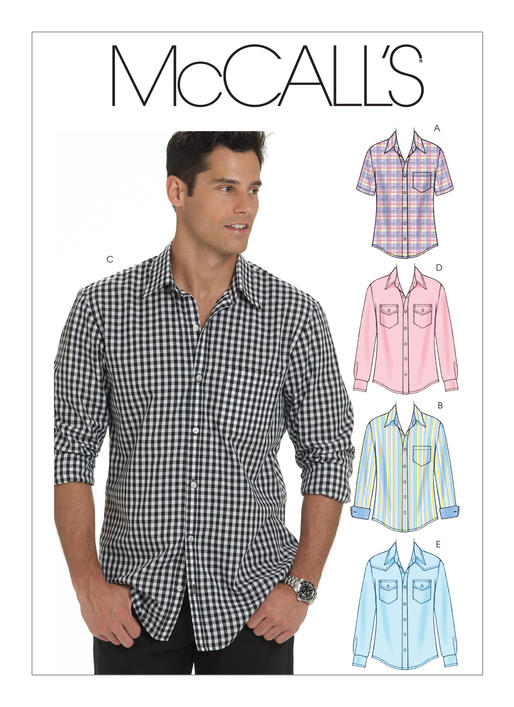 I went back-and-forth on deciding which pattern, but I ended up going with McCalls 6044 and am very happy with my decision. M6044 is a fairly traditional, relaxed fit shirt, with a curved hem, a two-part collar and collar stand, and optional chest pockets. There are also two different sleeve variations and one option has a front and back yoke, giving it a slightly more Western styling. I went for View A, which has simple short sleeves and a single chest pocket, but I do think I will try one of the other versions with the longer sleeves (I will conquer sleeve plackets one day!). The back piece is cut on the fold and there isn't much shaping in the front pattern pieces either, so that may be something to modify in the future to make the final cut more slim-fit.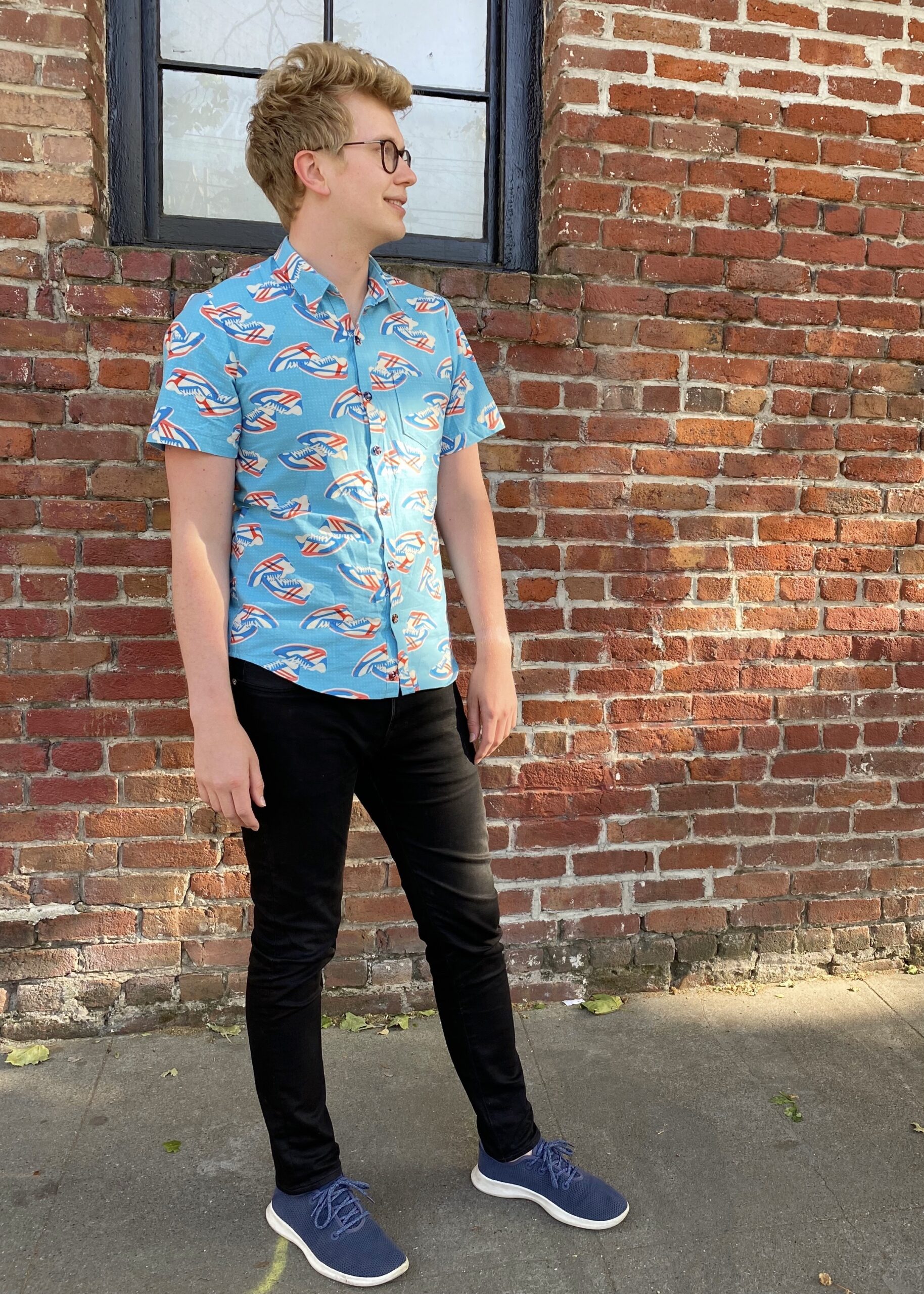 I am actually fairly impressed the fit looks pretty good, given that this was made with no in-person fitting! Simon sent me his measurements and I measured the pattern tissue and estimated a Medium would work with a few minor tweaks. I steadfastly refused to spend £20 on shipping a muslin to America, so there was a lot of crossing of fingers and praying that it would a) fit him across the shoulders and b) fit around his biceps and c) button up comfortably.
Don't be like me, kids — always make a muslin!
Despite my worries, when it arrived, Simon said it fits him well and the length is pretty much spot-on for someone as tall as him — cue my huge sigh of relief!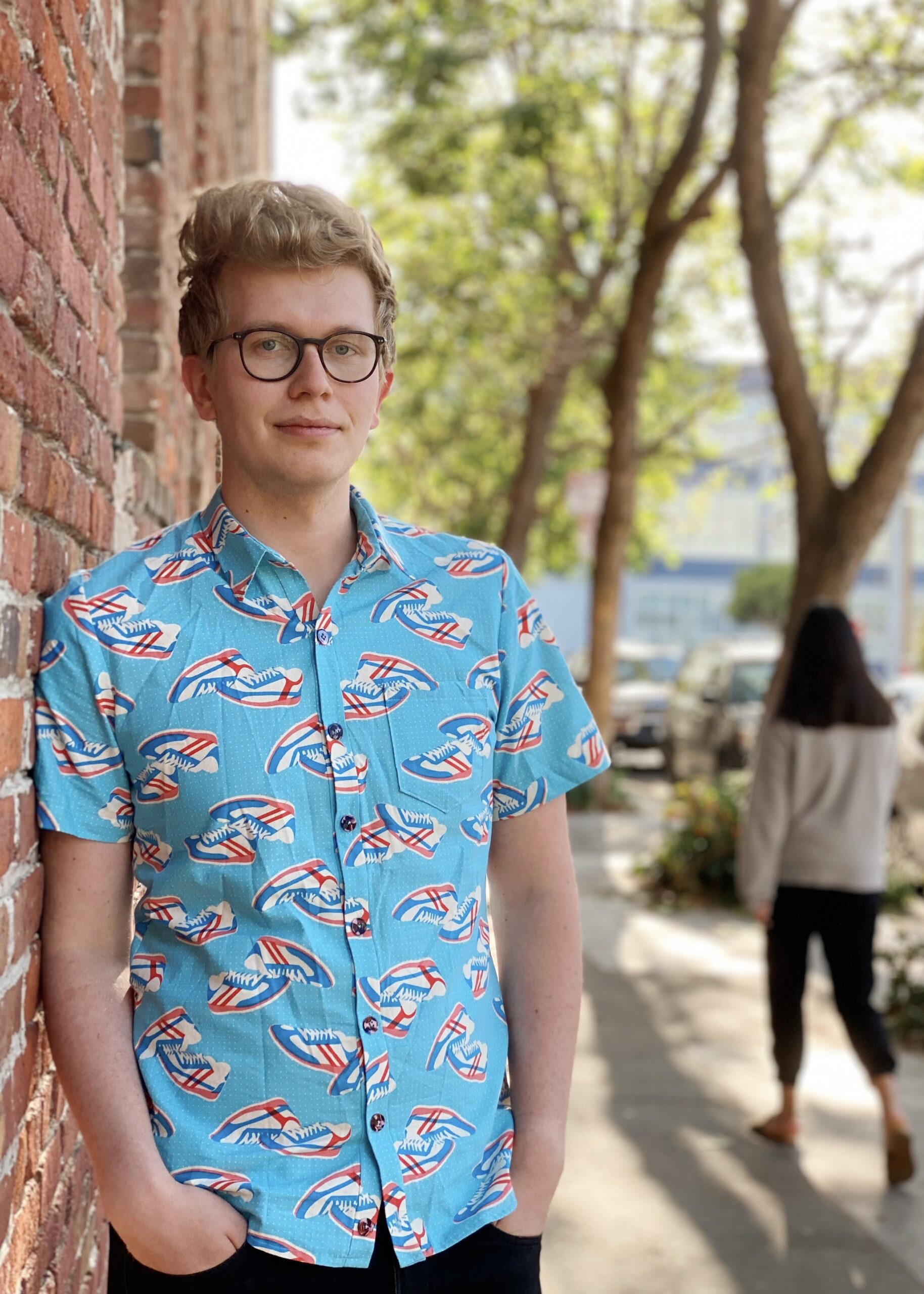 I took my time on this make and am so happy with my pattern-matched pocket! I also slipstitched the collar band and the button bands down by hand — I am usually fairly lazy and topstitch these on my machine, but I wanted to go the extra-mile for this make. I also made a matching 3D face mask for Simon, following the tutorial Marie from A Stitching Odyssey put out last year; this is my go-to mask pattern and I try and make a few from scraps to match my outfits.
Overall, I would class a men's shirt as suitable for an 'intermediate' sewist; there are quite a few tricky steps, so it is a good idea to have a few projects under your belt before you embark! I always refer back to this tutorial for getting a neat collar and try to take my time when sewing buttonholes. I must admit, I am equal parts happy and relieved that this project was so successful and that Simon likes his new shirt. I will certainly make Simon some other versions of M6044… but perhaps when I can fit them in-person!
Bonus picture of the pretzel pyjamas from when we went to Lake Tahoe in February 2020 (before the world turned upside down):